You probably don't think about eyewear as your final accessory—something to complete any outfit, mood, or occasion.
Maybe you should. Why not have multiple pairs of glasses to switch out?
That's what I was thinking when I went shopping for inexpensive but stylish frames on EZContacts. My budget was a thrifty $30 (or so) per pair—with prescription lenses. My aim was to find glasses that would reflect my personality and mood when wearing them.
I took the plunge, if you call that a plunge, without worrying about versatility. I tried to focus on adding bold and trendy frames to my collection, which I could count on to be a fashion accessory. Here's what I came up with…
Translucent pink
These glasses combine two of the hottest eyewear trends: pink frames and translucent frames. These clear frames also feature a matte pink arm to complete the look.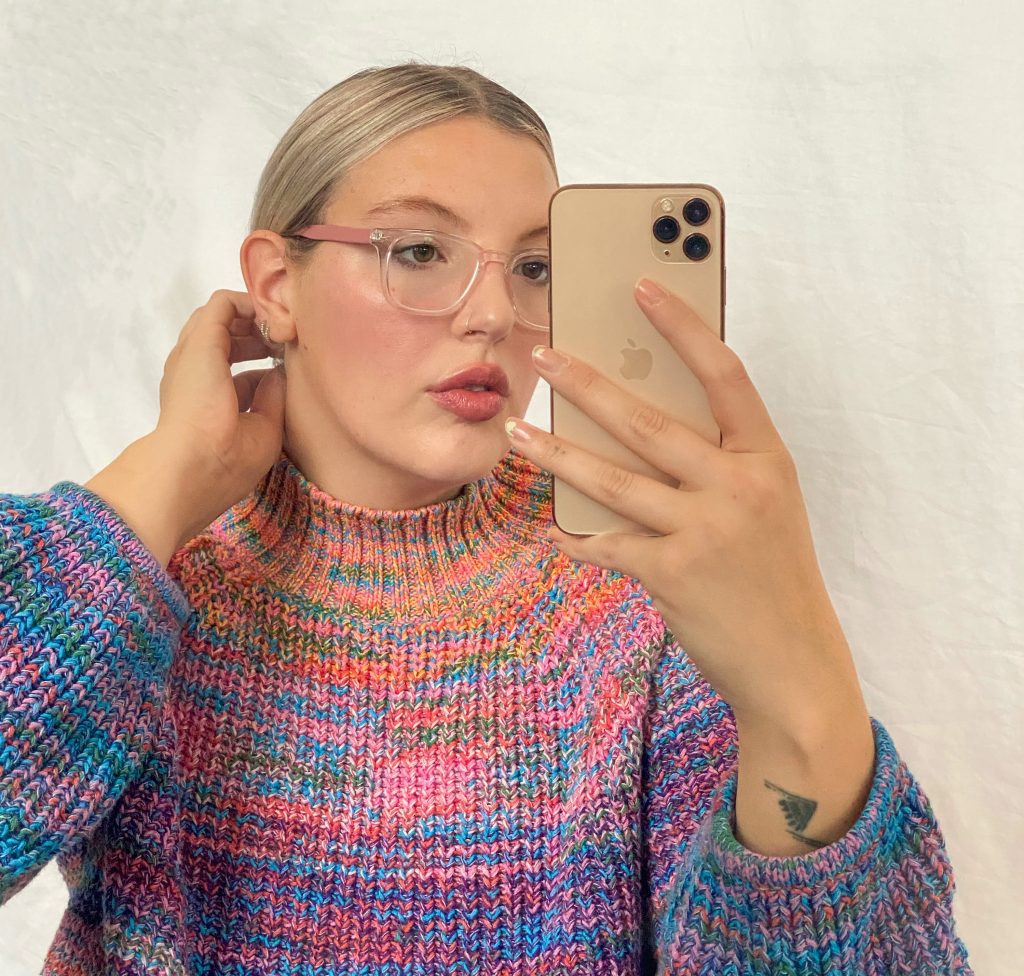 Pink translucent frames pair nicely with a bright colorful sweater. These glasses will add a subtle trendy look to any ensemble you pair them with. You'll be surprised to see how seamlessly they fit into your wardrobe. And who says your glass can't match your outfit? The pink tones of the sweater help play-up the color of the frames. Styling these bright glasses with an equally playful sweater makes for a lively outfit.
I'm wearing…

Acetate aviators
Here's a shot of me in acetate aviators, a staple frame style in the eyeglass world. For decades they've been viewed as a timeless shape for sunglasses and, in recent years, aviator eyeglasses have gained popularity. They are often seen as a trendy addition to any outfit. '70s-inspired eyewear has been trending recently and with that, we've seen the rise of acetate aviators as a more modern take on the classic wire-framed aviators.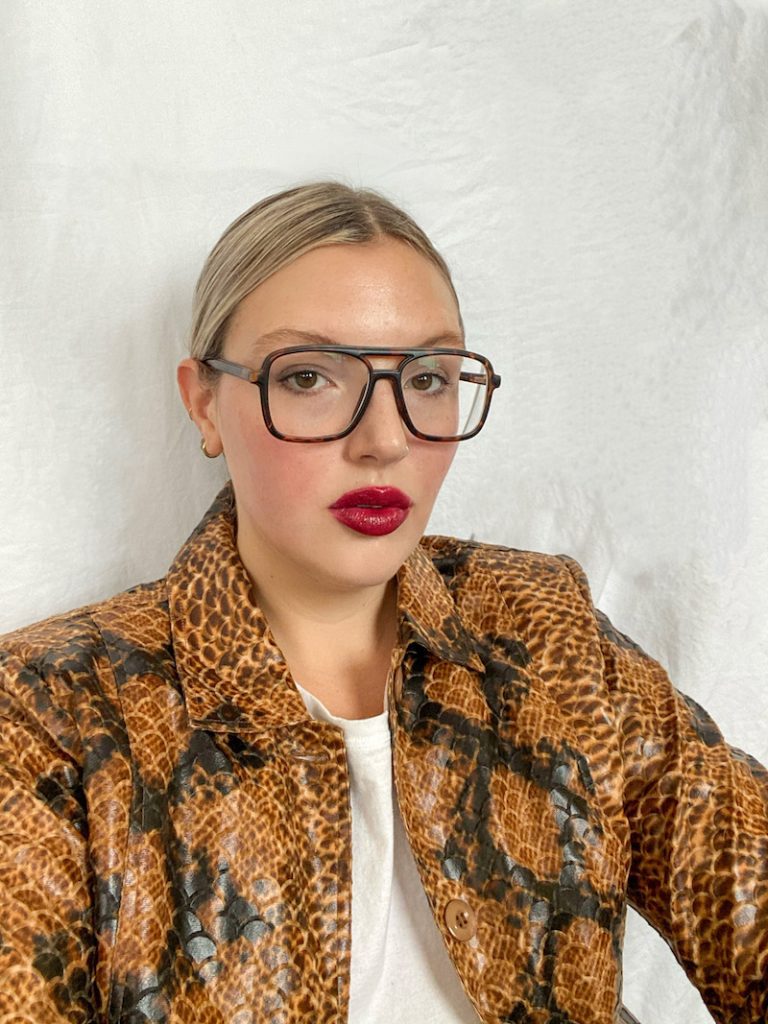 Now, these glasses are bold. The oversized, dark tortoiseshell frame will definitely add a statement to your outfit. To pull in the aesthetic of the glasses, draw more '70s inspiration to complete the look with vintage-inspired clothing. But keep the rest of your outfit modern. Too many vintage-inspired pieces in an outfit can make it feel costumey. This faux snakeskin jacket matches the vintage-inspiration, colors, and boldness of these frames. Like the aviators, this outfit only needs one standout item to complete the outfit.
I'm wearing…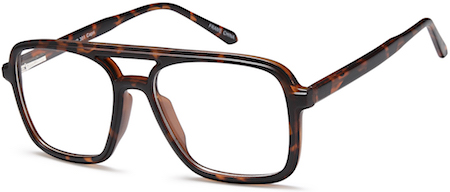 Oversized frames
Oversized frames are another recent trend in sunglasses. Why not bring that into your everyday eyewear as well? With glasses this bold, let them take center stage in your outfit as the only accessory you need.
With a trendy oversized frame shape, it's best to keep the color of the frame simple to stop it from overtaking your face. Dark glasses can cast shadows on your face, but with a nice translucent smoke color, you're able to bring color and brightness to your face without overshadowing the rest.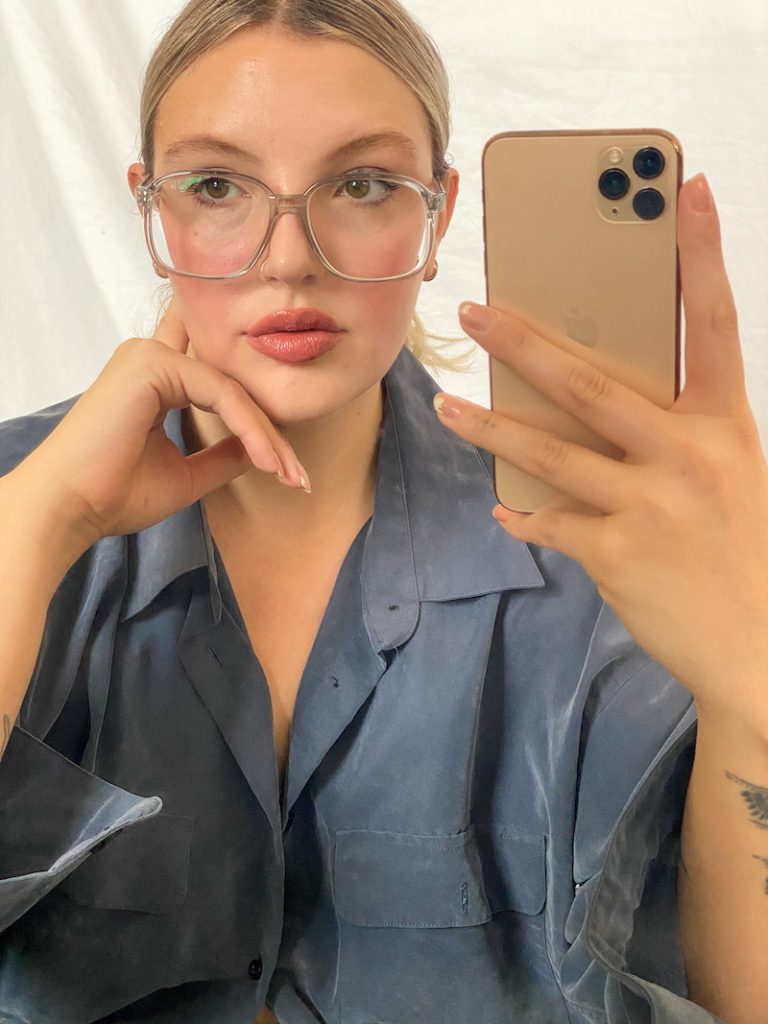 A monochromatic outfit is instantly chic and dusty blue is one of the trendiest colors of the year. To bring out the natural color of the glasses, style it with cool tones and a simple style top. Remember, glasses like these do the heavy lifting in your outfit.
I'm wearing…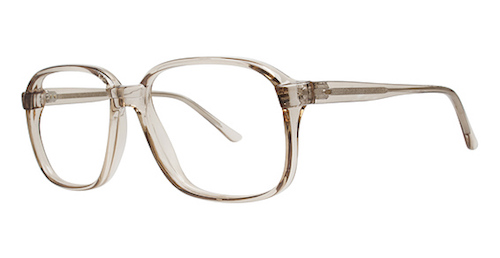 Accessorize away now…
In another post on our blog we introduced some of our new low-cost brands as "backup glasses." Pssst… there's hundred of them!
I think of them as something more: they're fashion accessories. And I now have multiple pairs of eyeglasses, including what I've shared with you here, to fit all kinds of occasions.