From runways to celebrities to fashion trendsetters, clear frame eyeglasses appear to be everywhere. And though they may be trending, the truth is they've been popular for quite some time.
The subtle, clean aesthetic of transparent eyewear makes it a staple that has been popular for years.
Have you found yourself growing tired of traditional glasses?
Translucent frames are a modern and fresh take on statement eyewear and perfect for anyone looking to stand out from the crowd.  Clear frames are an understated way to add a fun and interesting take to any look.
Their popularity may have to do with the fact that they look good on almost anyone. Young or old, male or female, there is a clear frame style that will work for you. They also compliment any skin tone or hair color.
Wear round frames for a hipster look or oversized glasses for a trendier take. Narrow rectangular frames work great for older crowds. Whatever size or shape you end up with, these fashion forward frames will be an unexpected addition.
Why go with clear frames?
Clear frame eyeglasses add a subtle but distinct look to any outfit and will match anything in your closet.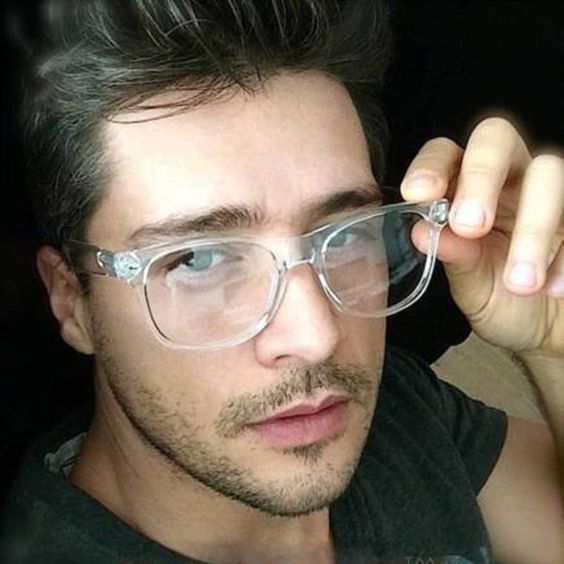 Transparent acetate delivers a brightening effect for the entire face while complimenting your facial features. They don't hide your face or cause shadows, as dark oversized glasses sometimes do.
A smaller frame works great for a more minimalistic approach, or you can go big with statement oversized frames.
Choosing the correct shape of your frames is important for any pair. In general, round and square frames work well on heart-shaped faces and circular and oval frames work better on square faces. Diamond-shaped faces look best with cat-eye or oval glasses. With round faces, look towards rectangular and square frames.
Tips for wearing clear frames:
Pick an oversized frame
Large frames will make a statement despite being translucent.
Try a translucent hue
Not ready to commit to crystal clear frames yet? Try a clear lightly tinted pair instead. Baby pinks and blues still give the overall look of a clear frame while still adding a bit of color to your face. You might also considered two-toned eyeglass frames that mix and match translucent with colors.
Opt for neutral eye makeup
Makeup residue is also a lot more noticeable on clear frames so go easy. Also, lighter makeup helps keep the focus on your face.
Fussy smokey eyeshadow will contrast too much against clear frames, however, don't be afraid of a bold lip.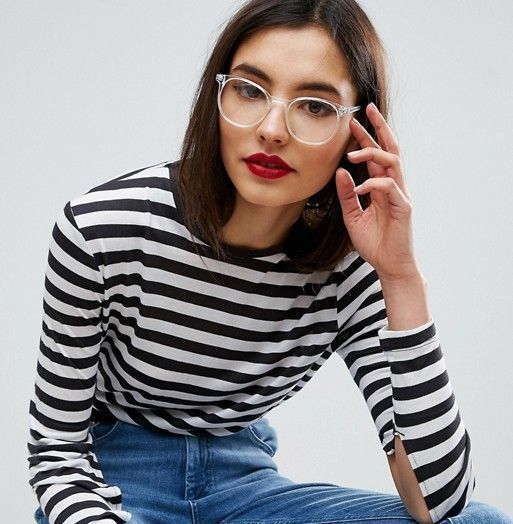 I swear by a true red lip when I wear my clear frames for a statement look.
Wear with light clothing
A lighter outfit will help keep all the attention on your face and your trendy clear specs.
Want to shop for clear frames?
Here are some styles you may like: