If you've shopped our e-commerce site, you know our product catalog is deep and your eyewear choices are massive.
Best selection? Check. Best prices? Always. But what about the shopping experience?
We're doing our best with it too. Our objective, of course, is to help you find what you're looking for fast and make the experience fun.
So, let's look at how to (1) try our glasses on virtually, and (2) find what you're looking for fast and easily.

Which aisle would you like to go down? Our store offers sunglasses, eyeglasses, contact lenses, readers, and eye care solutions. Four of these categories offer pull-down menus, to immediately put you on the fast track.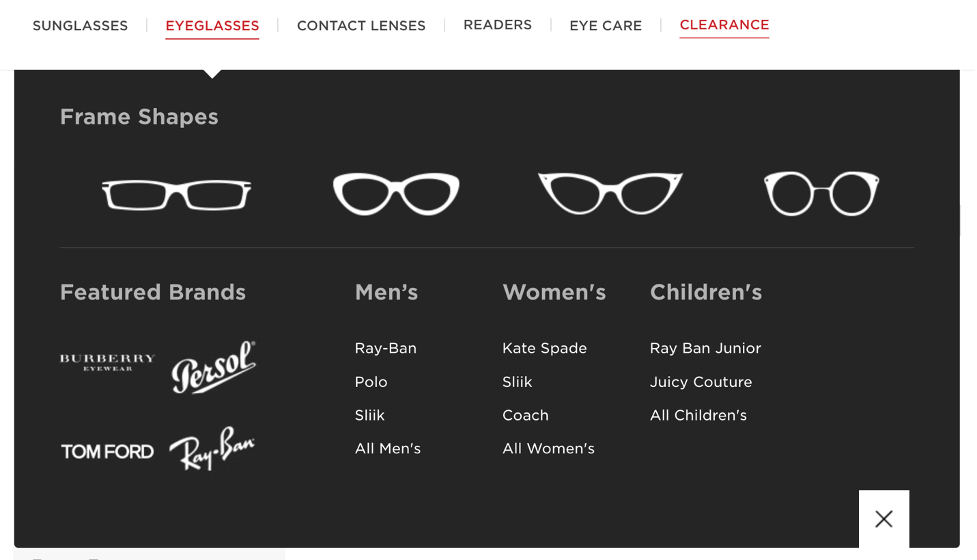 Above is the pulldown menu for EYEGLASSES. As you can see, it's designed to help you shop by popular frames shapes, brands, gender, or specifically for children. You can make a selection or not. If you simply click the category, you'll find…
Many useful filters await you
Imagine you get to Macy's and there's no directory at the escalators. Tour the store top-to-bottom and side-to-side and you'll eventually find what you're looking for.
Wait! That could take hours. And that's crazy.
So, like a massive store in the physical world, at our store we offer all kinds of directories in the form of filters. If you're on a computer, you'll find them on the left rail; on a smartphone you'll find them atop your screen.
For obvious reasons, the filters differ from category to category. Before we're done here, I'll give you some pointers to shop for shades and contacts, but the tour you're about to get focuses on eyeglasses. Let's go shopping…
Look at you!
Here are the filters you'll find first: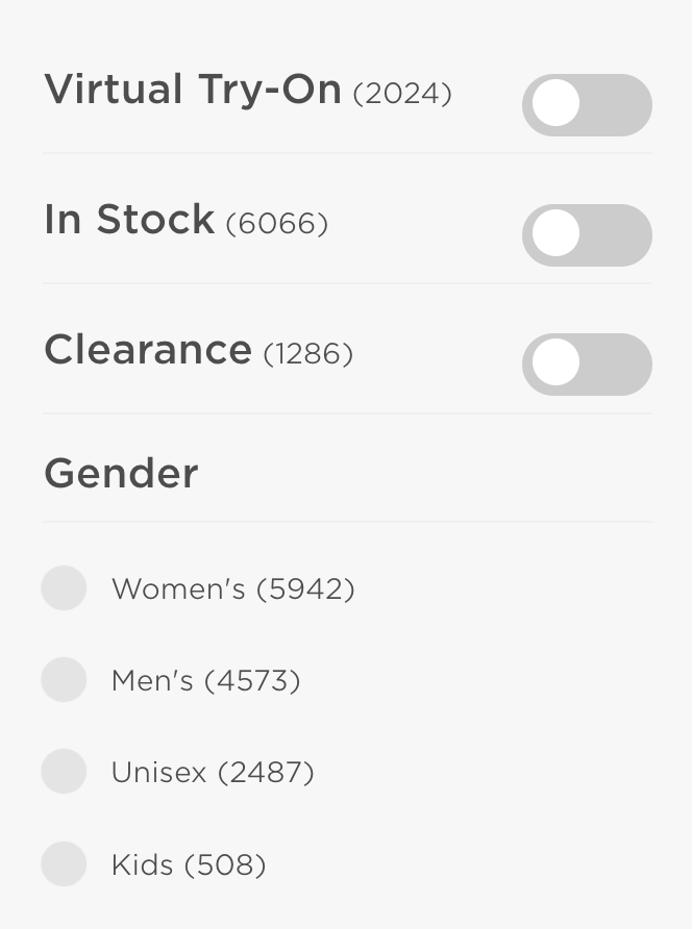 Virtual try-on—This one employs augmented reality tricks but is a cinch. As you see, you can get a virtual try-on for thousands of models.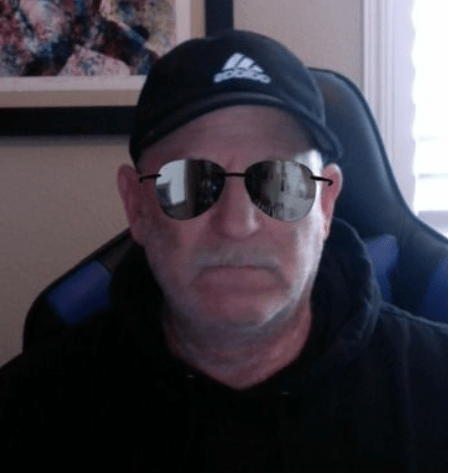 The process is fast and fun. You look into the camera, and thanks to some cool technology, you're looking at yourself with the eyewear on. (That's me shopping for Maui Jim sunglasses.)
In stock
We have thousands of models in stock but thousands more that take additional time to deliver. If you want the glasses we're able to deliver the fastest, toggle this switch to the on position.
Clearance
Like any store, we often need to clear-out some merchandise. You could save some bucks by clearance shopping.
Gender
A huge portion of sunglasses is "unisex." We classify them the way the manufacturers do to speed you along if you prefer to shop men's/women's/kids.
Do you know what you're looking for?
The next two filters can be major shortcuts for finding your frames.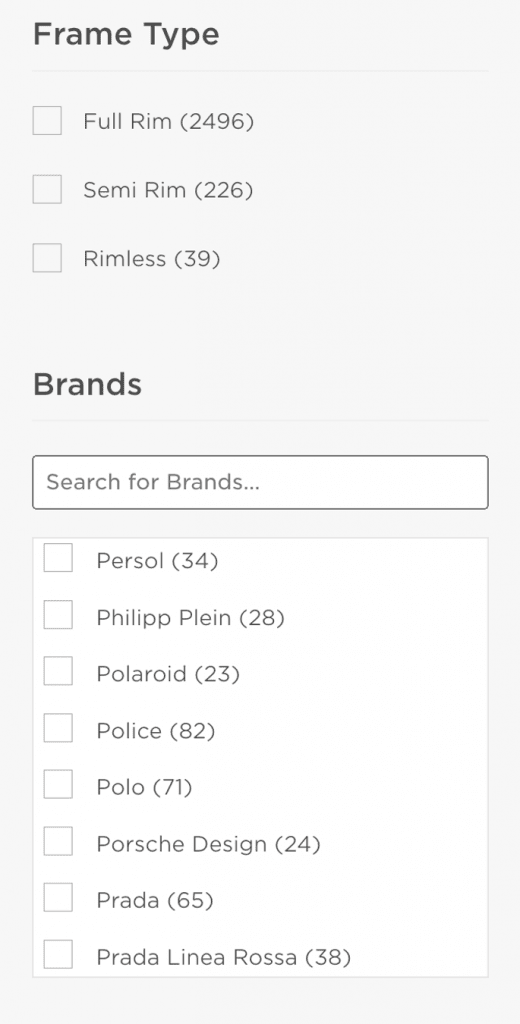 Frame type
Frame type breaks down into three categories, so if you know you want a full rim, semi rim, or rimless frames, check the box.
Brands
Are you brand loyal? Many glasses customers are. And, when it comes to contacts, you may need to be. At an optometry shop you'll find inventory showcased by brand (albeit a smaller selection of brands). At EZContacts, you can find your favorite brand—or brands—by typing in the search field or scrolling through the (very long) list and checking the brands you're considering.
Sizing you up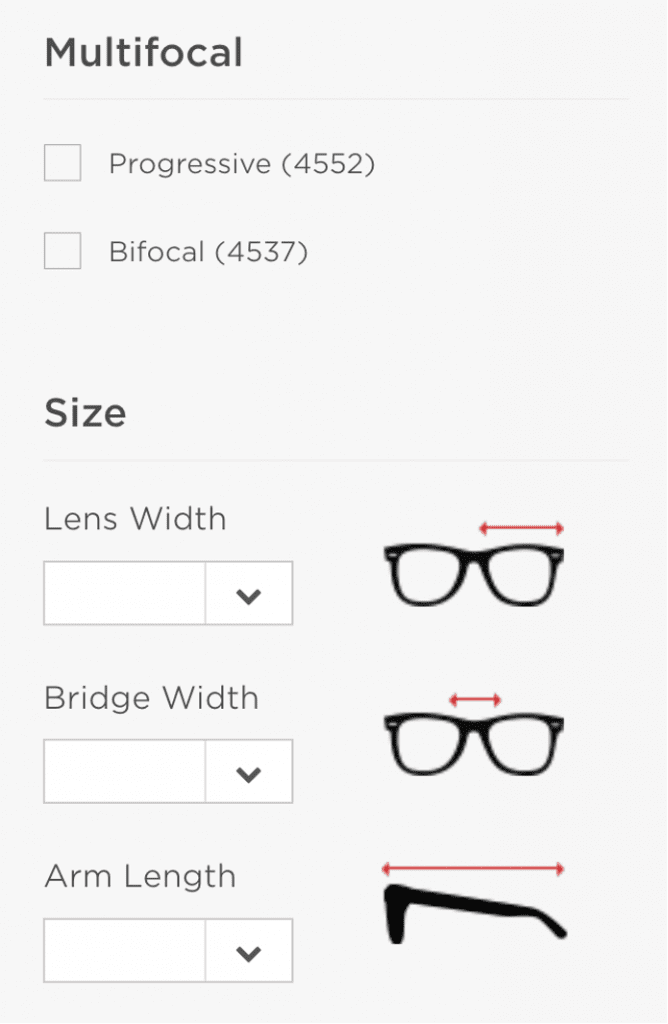 Multifocal
If you've been prescribed progressive lenses or bifocals, make a pick and spare yourself from ordering frames with lenses that are too small for the prescription.
Size
It's a bit rare to shop by size, but you can. You may know for a fact that certain lens widths or arm lengths work best.
Your look and feel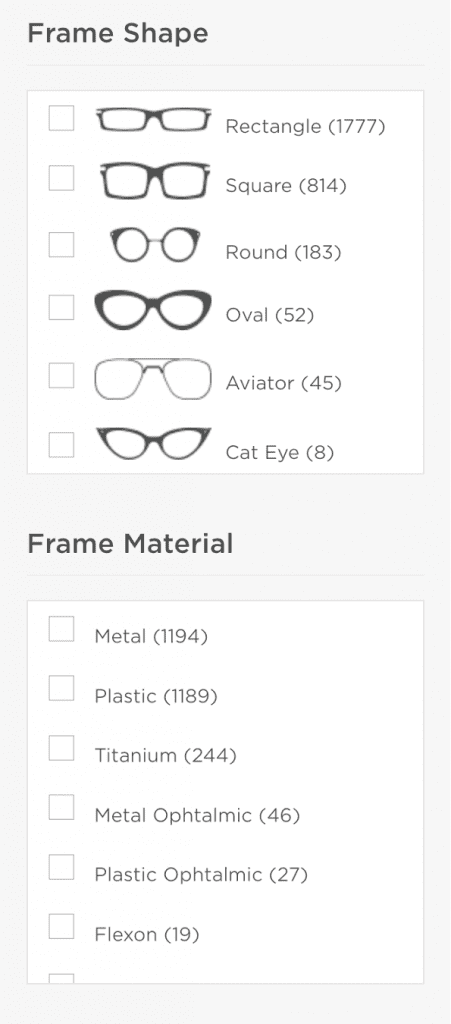 Frame shape
Many shoppers know exactly which frame shape best suits their face and tastes, so you're welcome to get right to them with this filter.
Frame material
Frames are made of a variety of materials, so you might get selective here.

*Note the screenshot above doesn't depict our entire selection of frame shapes or materials.
Shopping on a budget?
Do you know what you have to spend?
You're in luck. This filter offers 11 price ranges. Shop on a tight budget. Shop on a big budget. Or select a range. As you see in the (parentheses), you'll still have a great selection.
Filter your way to your next pair of shades
When you shop for sunglasses, you'll have all the same filters, plus this one: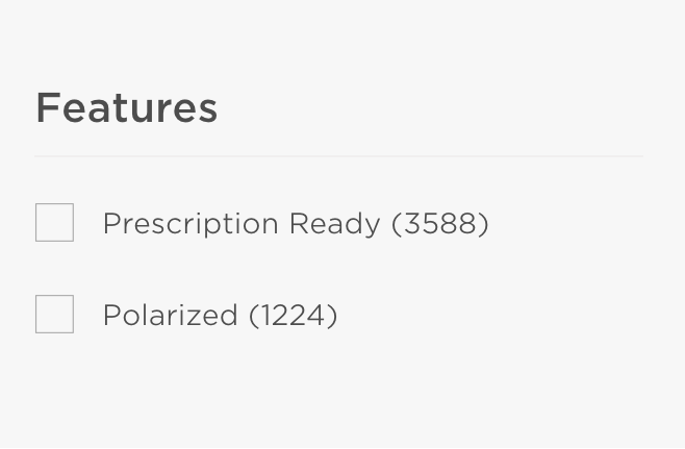 Checking the first box means you can order sunglasses with prescription lenses. The second box, obviously, narrows the field only to sunglasses featuring polarized lenses.
Filter your way to your prescribed contact lenses
As you would suspect, the shopping experience you'll have when shopping for contact lenses, will be different. And, because you'll have a very specific prescription, you'll be able to find what you need quickly with the following filters:
Brand
Manufacturer
Contact lens schedule
Contact lens type
Base curve
Diameter