Of course, it's hard to see when the sun shines in your eyes. But make no mistake, first and foremost, wearing sunglasses is the healthy thing to do for oh-so-many reasons…
Beyond improving your vision in bright light, sunglasses prevent long-term health conditions, reduce eye strain and the headaches it causes and protect your eyes from elements including wind, dirt, dust and sand.
Sunglasses help make things look sharp—and you can look sharp too. Let's look at what you should be looking for when selecting your shades through the lens of both practicality and fashion.
Harmful rays
The culprit here is the sun's ultraviolet (UV) rays, which can do great harm. The solution is as simple as wearing sunglasses that block 100 percent of UV rays. Don't waste your money with any pair of sunglasses unless they provide complete UV protection.
Lens colors
Sunglass lenses come in a variety of colors (or tints) and you may find a reason to factor color into your selection. However, that reason won't be eye protection. The color of the lenses have no effect on their ability to block UV rays.
In the process of producing lenses, they're treated with colorless chemicals that block UV light. In fact, clear lenses can block UV light as well as dark-colored lenses.
However, various tints do filter light in different ways and create different effects.
Grey
Grey is a neutral tint that reduces glare and enables you to perceive colors in their purest form. Gray lenses are great for driving and sports such as golf, running or cycling.

Green
Green tints reduce glare while offering high contrast and visual sharpness. Shades of green tend to reduce eyestrain and are ideal for precision sports such as tennis, baseball and golf.

Yellow and orange
Yellow and orange tints increase contrast in hazy, foggy or low-light conditions. Though they may increase visual sharpness, they may cause color distortion. Yellow lenses are a good choice for snow sports.

Amber and brown
Amber and brown tints reduce glare and brighten your vision on cloudy days. By blocking blue light, amber and brown tints increase contrast and visual acuity, especially against green and blue backgrounds. Consider choosing amber and brown tints for fishing, baseball, golf, hunting, cycling, and water sports.
Rose or red
Rosy tints increase contrast by blocking blue light. These tints are known to soothe the eyes and provide comfort for longer wear-times.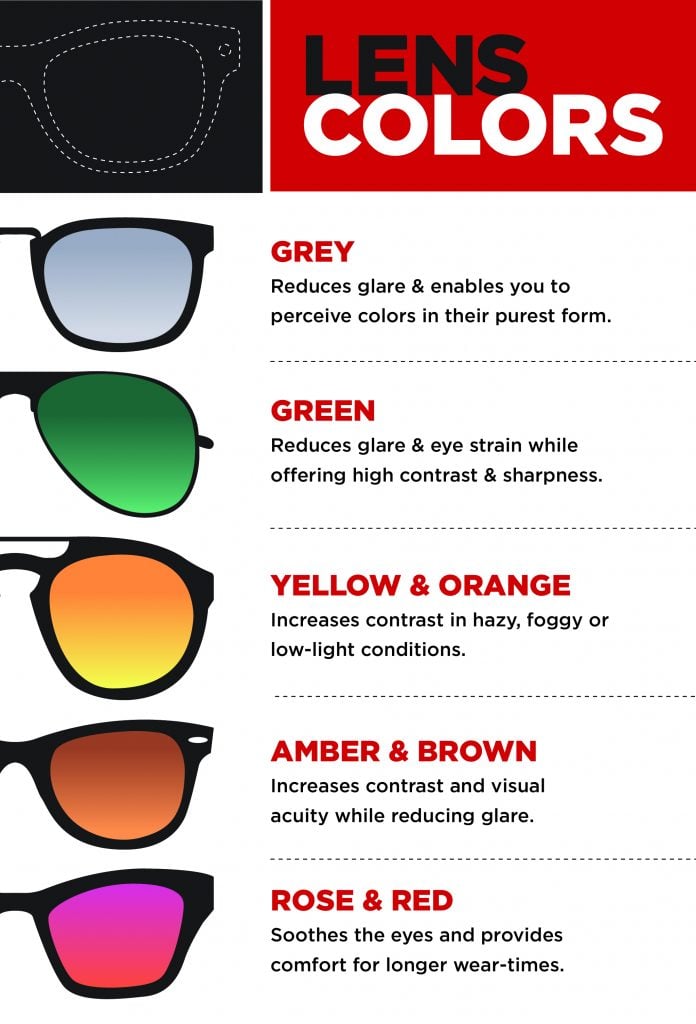 Sunglasses lens features


Polarized
Polarization—a popular feature—removes glare from reflective objects to assist visual clarity. Polarization is a great feature if you enjoy water sports or are sensitive to glare. Understand, however, polarized lenses diminish the visibility of LCD readouts.
Photochromic
Photochromatic lenses darken when struck by UV light. They return to normal in dimmer conditions. This feature makes the lenses a popular choice for those that need the corrective properties of eyeglasses. Note that the photochromic process doesn't work when driving because UVB rays do not penetrate your windshield.
Prescription
You can order sunglasses with the same prescription as your normal glasses.
Mirrored
Mirrored lenses feature a coating or reflective film that deflects some of the light. Though mirror coating does not completely protect against UV light, it can be combined with other materials to do so. Mirrored lenses are usually selected for fashionable reasons. They don't offer any superior qualities compared to other choices.
Other coatings
Premium sunglasses may have several layers of coatings, including:
Hydrophobic coating to repel water
Anti-scratch coating to improve durability
Anti-fog coating for humid conditions or high-energy activities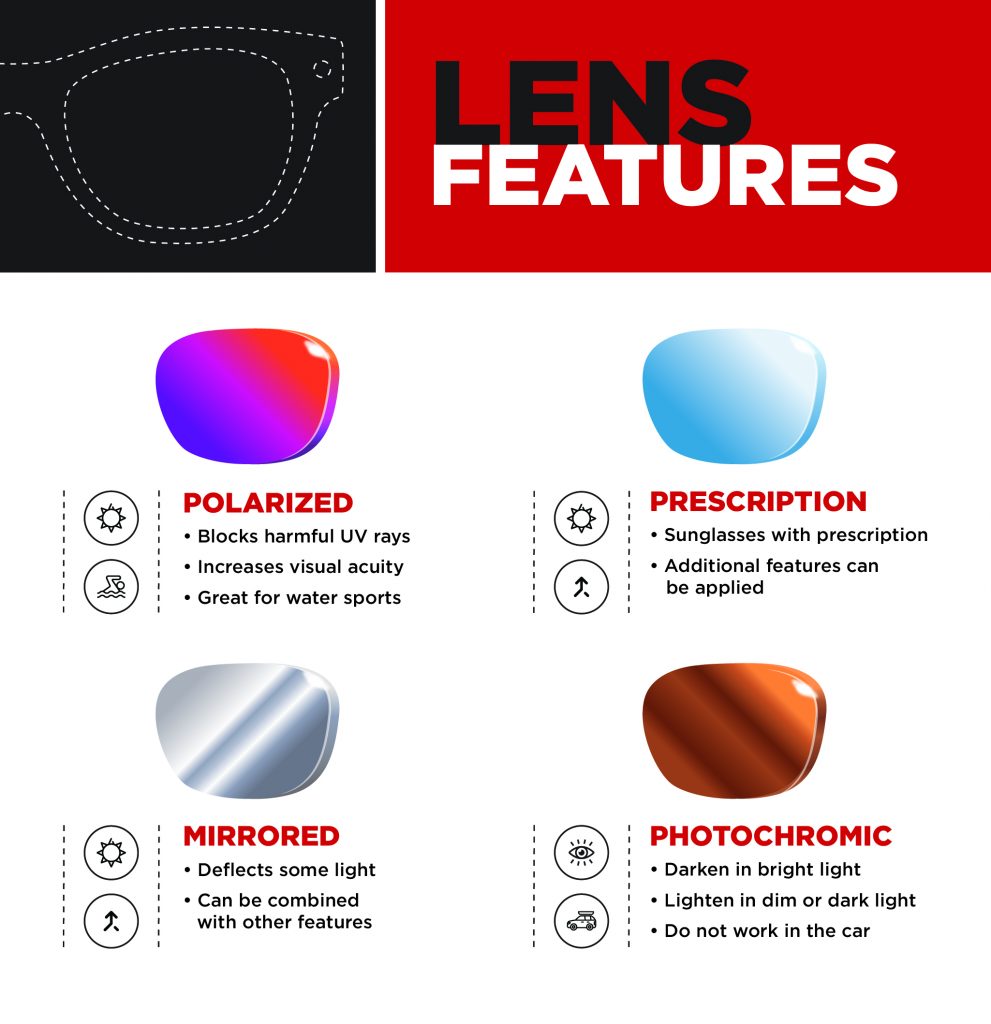 Sunglasses lens materials

Polycarbonate
Polycarbonate lenses are thinner and lighter than traditional plastic lenses. They're also up to 10 times more impact-resistant than either glass or plastic lenses. Polycarbonate has become the go-to material for safety glasses and sports goggles.
Glass
Glass lenses offer superior optical clarity and scratch-resistance. However, they're heavier and more expensive.
Polyurethane
Polyurethane provides superior impact-resistance and excellent optical clarity. It's flexible and lightweight, but also more expensive.
Acrylic
Acrylic is an inexpensive alternative. It's less durable and not as clear as polycarbonate or glass.

Sunglasses frame materials

Metal

Metal frames are easy to adjust and less obtrusive to your field of vision. However, metal frames are less durable than other types and not for high-impact activities. Metal can also get hot.
Nylon

Nylon is inexpensive, lightweight and durable. Some nylon frames have high impact-resistance for sports. These frames aren't usually adjustable.
Acetate

Acetate, which is a variation of plastic, is popular for stylish sunglasses. More color varieties are possible. The material is less flexible and not suited for high-activity sports.
Castor-based polymer

This material, derived from castor plants, is light, durable, non-petroleum-based.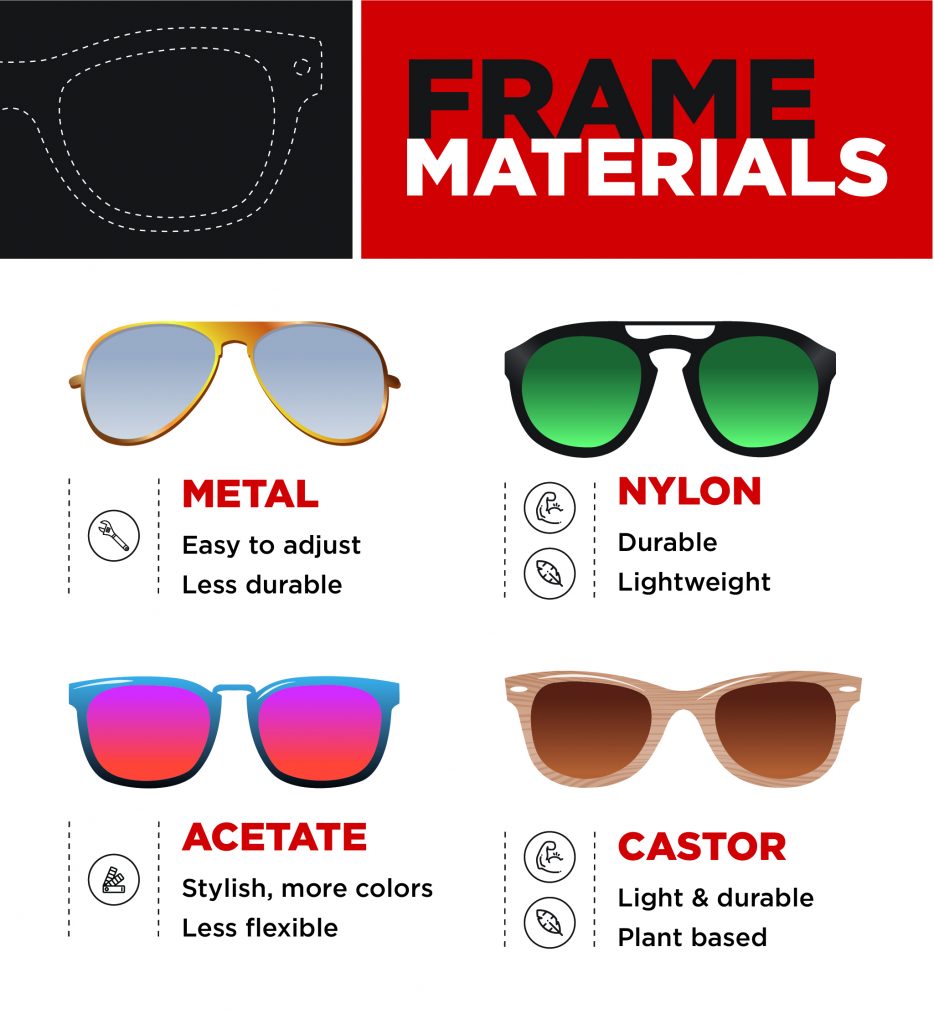 Sports sunglasses
Most sunglasses are not designed for action sports. Sports sunglasses, on the other hand, are designed for activities such as running, hiking and biking.
They are usually lightweight and purpose-made for fast-paced adventures. Superior frame and lens materials are used to increase impact-resistance. Sport sunglasses also typically feature high-grip nose pads and temple ends to help keep the frames in place when you sweat.
Some sport sunglasses include interchangeable lenses so you can make adjustments for different light conditions.
Glacier glasses are designed specifically to protect your eyes from intense light at high altitudes and sunlight reflecting off snow. They often feature wrap-around extensions to block light from entering from the side.
What about style?
Shwew. You have a ton of choices. To name a few:
Aviator
Browline
Wayfarer
Round
Rimless
Semi-rimless
Wrap-around
Sport
Shield
Biker
Clip-on
Retro
Oversized
Cat-eye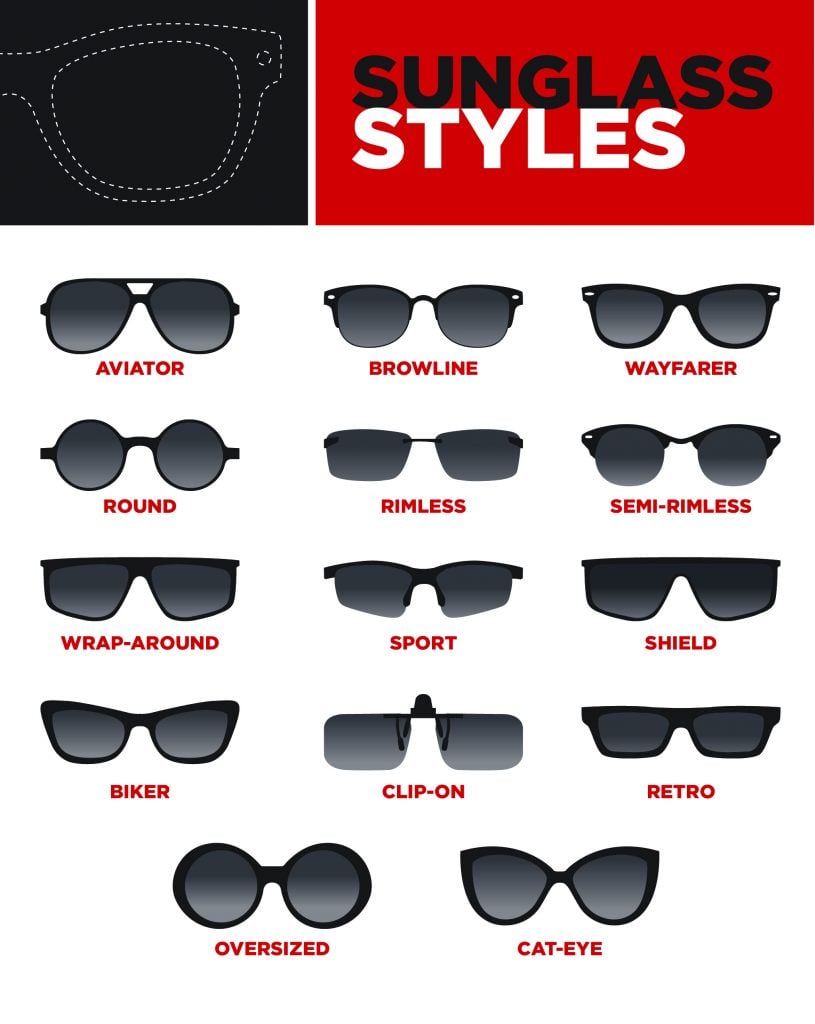 What can we advise? Have fun. Go for it. Buy several styles to suit your mood or to align with the activity you have planned.
Should you consider your face shape? You may want to. We offer some great tips for doing so here.
Finally, we present the top-selling sunglasses brands at EZContacts. You can shop them here and filter the massive selection by style, shape, brand, price and more to find precisely the shades you want.
SHOP BY YOUR FAVORITE SUNGLASSES BRAND:
GUCCI | RAY-BAN | OAKLEY | TOM FORD | VERSACE | PRADA | BURBERRY | SAINT LAURENT | MICHAEL KORS | PERSOL | TORY BURCH