EZContacts is all about giving our shoppers options across the eyewear spectrum…
More types of eyewear, styles, shapes, materials, brands, lens coatings, and of course, price points.
We're pleased to announce we've done it again with the addition of an immense portfolio of beautiful—yet inexpensive—eyeglass frames. 
Now it's even more fun to shop because you can buy backup glasses for less or expand your eyewear collection to complement your wardrobe with different styles for different occasions. For fashion, fun, and the reasons we'll get into below, it's never been easier to buy multiple pairs of eyewear.
Introducing an impressive portfolio of frames under $25


One of the many filters offered on the EZContacts shopping pages allows you to shop by price. The first choice you'll find there is "Under $25."
Then, you'll find hundreds of stylish glasses to choose from. And you can easily hone-in more to find a pair or two to add to your collection by using the filters offered such as frame shape, frame material, size, and more.
More fashion choices, more fun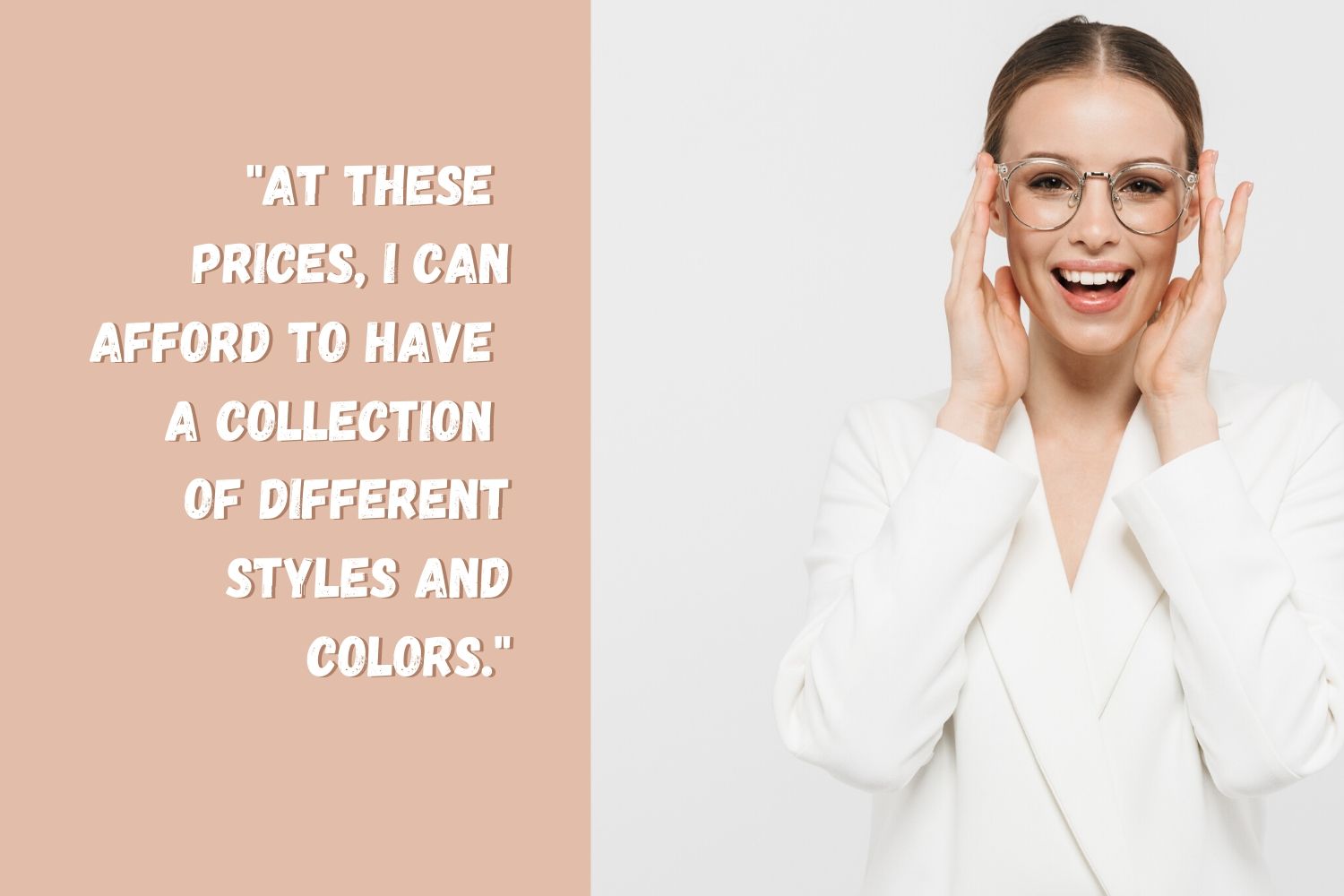 You may want several pairs of glasses to suit your fashion needs. Why not? And why let it break the bank? With glasses starting below $10, it's fun and affordable to make glasses an accessory in your wardrobe. Think about the potential…
You can change your look when transitioning from work to home to a night out, or whatever.


Your frames can complement what you decide to wear on any given day, or occasion. You might even want to purchase a specific style in multiple colors. Obviously, you think about this sort of thing when it comes to shoes, handbags, and more.


Maybe you feel it's time to try a new look, but you're not so sure it suits you. A fashion risk isn't a financial risk when the price tag's low.


It's possible you simply don't need eyeglasses, but like the look. Non-Rx glasses (or "fake" glasses) have become popular, and now, more affordable.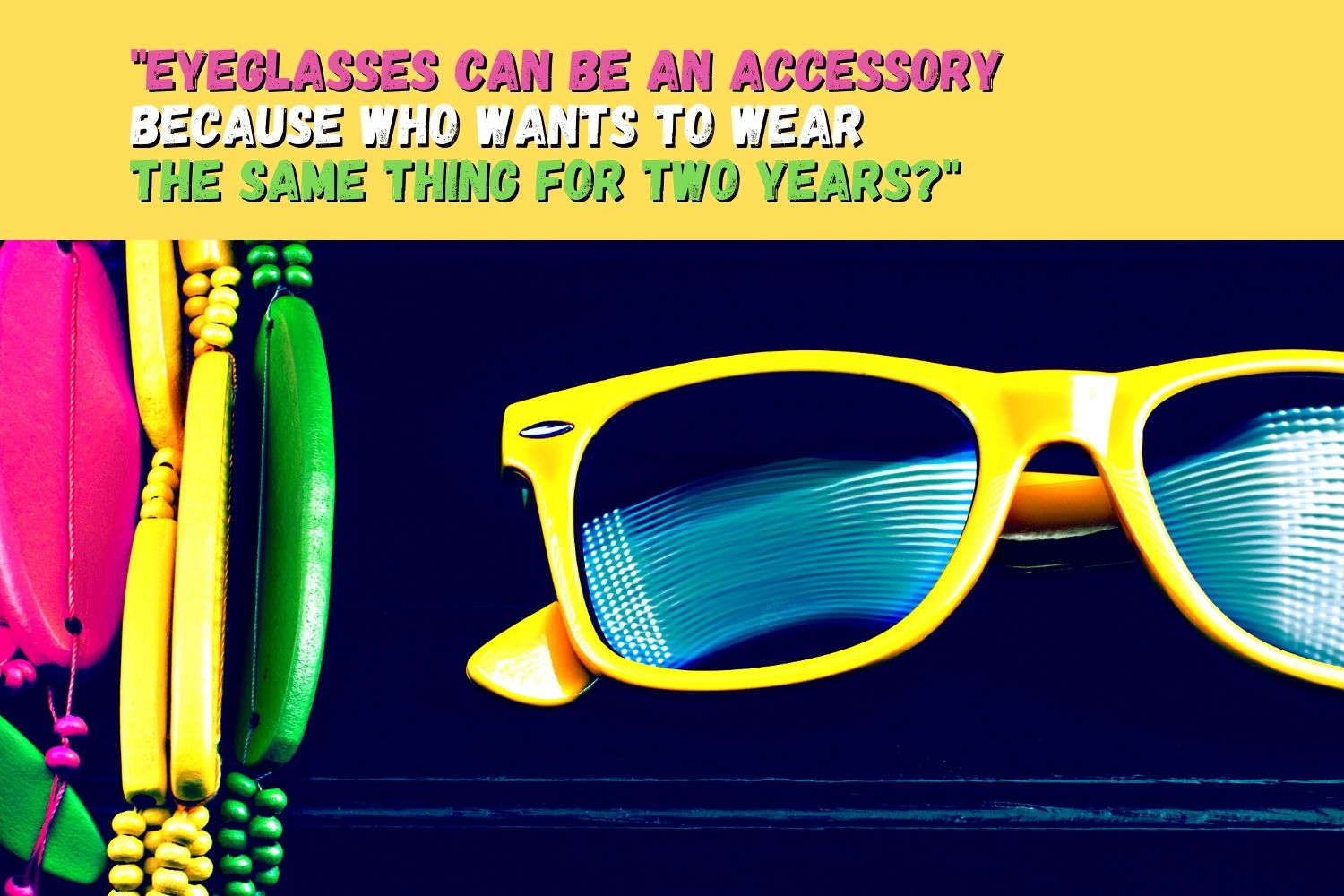 More reasons to buy more affordable glasses
Glasses crashes and other accidents
Glasses are not indestructible. They might get scratched, damaged or crushed. They also don't have GPS sensors built-into them. Therefore, they can easily be lost.
The point is, you can be prepared for these mishaps at any and all times simply by owning a backup pair of eyeglasses. Sure, you can have a second set from the same brand, with the same features (and price), or you can make the frugal choice to have an inexpensive set or two on hand.
It's a smart idea to have at least one set of backup glasses because you don't want to be dealing with an "I can't see" issue for any length of time—even a day. And by the way, it's probably not that smart to have only old glasses on hand as your backup plan. They're bound to be outdated.
Taking a break from contacts
If you wear contact lenses, it's essential to also have at least one pair of glasses. Here are some reasons why:
Your eyes are acting up—If you should happen to get an eye infection or irritation of any kind, you'll want to take a break from contacts. The fact is, people who have backup glasses get less eye infections because they're more likely to wear the backup glasses when they have any sort of irritation.


Traveling—If you travel often, you run the risk of not having access to your eye doctor. So, packing eyeglasses when you're leaving home is simply a smart and safe idea.


Nobody's looking—While it's probably rarer than ever before that people don't want to be seen in glasses, some definitely do prefer how they look in contacts. (No judging!) When no one's looking, you may simply want to take your contacts out and put your glasses on.


Airing out your eyes—Your eyes need oxygen. At the end of the day, many people feel good about easing into the evening in glasses instead of contacts. You might say glasses are like PJs for your eyes.
A good fit for what you're doing
A backup pair of glasses—or several—may be just what you need for something you often do. Some specific applications for which you might want them include:
Reading—Reading glasses, or "readers," are simply magnifiers with a lens power of +1 to +4, to enable you to focus close-up.


Hobbies—Single-focus reading glasses might be perfect for your hobby such as sewing, knitting, painting, etc.


Working on a computer—You may want a set of glasses with the precise magnification you need to see your computer screen more clearly. Customers often choose to add blue light filters to the glasses they use for computing.


Outdoor use—You may want to select certain frames for standard or prescription sunglasses.


Driving—Eyeglass wearers often require one type of prescription for work, school, or their lifestyle in general but see better—and feel safer—with a set of glasses specifically for driving.
A smart buy for your kids
If you fear your child is more likely to lose or break their glasses, you can make the smart and frugal decision to have inexpensive backups on-hand. Of course, many of the reasons to have extra glasses that we've reviewed here may apply to your kids as well.
Get more advice regarding selecting eyeglasses for kids here. 
Keeping the costs of eyewear down
EZContacts has always focused on providing a great selection of eyewear, making the shopping experience easy, and curbing the costs. The addition of our new portfolio of elegant house brands makes it practical to always have backup glasses on hand or a collection of glasses to suit all your function and fashion needs.
SHOP FOR ULTRA-AFFORDABLE FRAMES NOW