Cat-eye glasses were born in the 1930s (though they had yet to labeled as such). Altina Schinasi, the inventor of the popular frame, explains in her documentary Altina how she first came to the idea.
Image source: Parade
Schinasi had noticed how boring all glasses were as if most frames hadn't improved from the time of Benjamin Franklin. She asked herself, "What would look good on a face?" Her answer: a Harlequin mask. And so the "Harlequin glasses" were born.
Schinasi was inspired by the masks she saw in Venice that featured exaggerated framing of the eyes. She was turned down by many opticians before finding a partner in a glasses boutique in New York City. They became instantly popular.
Cat-eye frames rise in popularity
By the 1950s, these frames became known as cat-eye glasses because of the way their shape mimics cat's eyes. They continued to gain popularity from a wide array of backgrounds. Movie stars like Audrey Hepburn and Marilyn Monroe, to famous politicians to stay-at-homes, all favored an adaptation of the popular frame.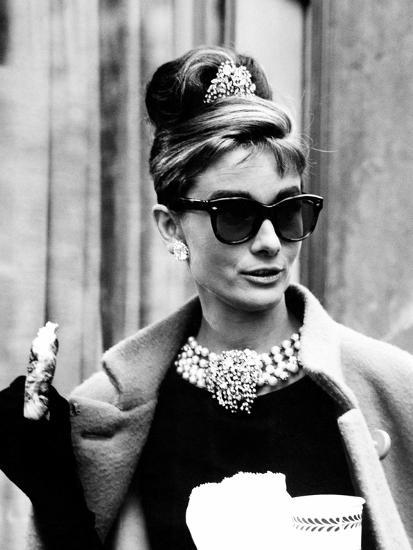 The cat-eyes continued to grow in size by the 1960s. Audrey Hepburn rocked a pair of oversized frames in 1961 in Breakfast at Tiffany's. Because of how popular the movie became, in addition to Hepburn herself, the oversized cat-eye frame became widely popular and still continues to be popular today.
In the 1970s, women preferred to wear oversized circular or square frames similar to Jackie Kennedy and in the 1980s, aviators became all the rage after Top Gun. The 1990s colored lenses or "bug-like frames" rose to popularity and the cat-eye became out of favor for a couple of decades.
By 2010 and soon after, the cat-eye frame was back in fashion. In particular, skinny sunglasses became all the rage—many taking on a cat-eye shape, which propelled them back into major popularity. Even though tiny sunglasses might not be your thing, there' likely to be a cat-eye model that flatters your face.
How to wear cat-eye frames
 Photo by Andrea Piacquadio from Pexel
Whether you are looking to rock cat-eye eyeglasses or sunglasses, there is a style and a frame for you. For a modern take on the retro silhouette, try them in contemporary colors and details. A trendy green, beige, or pink frame will add a stylish boost. Or, to go really fashionable, combine two of the top eyewear trends and try out clear cat-eyes or translucent frames for a modern take on the vintage-inspired frame.

To keep things classic, try a frame in a bold black or tortoiseshell cat-eye. If you are looking for a statement pair of glasses that still nod to the 1950s, a pair of red frames are a great alternative. Cat-eye frames can make you feel chic while adding vintage renewal into your everyday wear.
Do you have the face for cat-eye frames?
As for face shape, the cat-eye is a truly versatile silhouette that can suit a variety of different shapes. For round faces, look toward bold and angular lines. Sharp lines and striking details help balance out softer facial features and rounded face shapes.
For more angular features, try a more oval or rounded pair of cat-eye frames. The winged shape will help balance the wide jawlines of a square-shaped face, and the rounded lenses will act as a soft juxtaposition to the sharp features.
If you're unsure what face shape you have and what style of glasses will look best on you, checkout our guide on how to choose the perfect frames.
Shop some popular cat-eye frames
DOLCE & GABBANA DG3218 SICILIAN TASTE