Wearing sunglasses in the winter is often a topic for discussion. Some argue sunglasses aren't really needed when the sun's not shining. For the record, we want to remind you that UV protection is needed year-round.
While there are numerous reasons to put on a pair of shades in the winter (UV protection and protection from snow reflection to name a few), sunglasses can also act as a great fashion accessory to dress up your face and elevate your look. In fact, outside of the fact sunglasses are functionally necessary year-round, sunglasses are also a style power move, taking your bored tried-and-true puffer to runway ready with a simple swipe of an accessory.
Winterize your specs
What should you look for in a great pair of stylish winter sunglasses? While it seems our sweaters and coats get fluffier, heavier, and longer during the colder months, sunglasses styles lean the same way focusing on heavier silhouettes. To balance your thick knits and wool caps, the key to winterizing a stylish outfit is choosing the right pair of shades in the right colors, silhouettes, and patterns.
If summer sunnies are lightweight and delicate, winter sunglasses are expressive and bold, emphasizing eye-catching silhouettes, interesting prints, and oversized logos. We've rounded up sunnies from some of your favorite brands to help transform your winter wardrobe.
The hot and oh-so-cool shield look
Versace mono-shields are reminiscent of ski goggles, and while you may only be participating in the apres ski part of the day, that doesn't mean you shouldn't look the part. Oversized styles are bold and statement-making—precisely what you want in a pair of winter shades (not to mention the outstanding sun protection they offer). These trendy shields also come with easily changeable lenses that double the wearability, so you can change from translucent to black, to gradient lenses in seconds.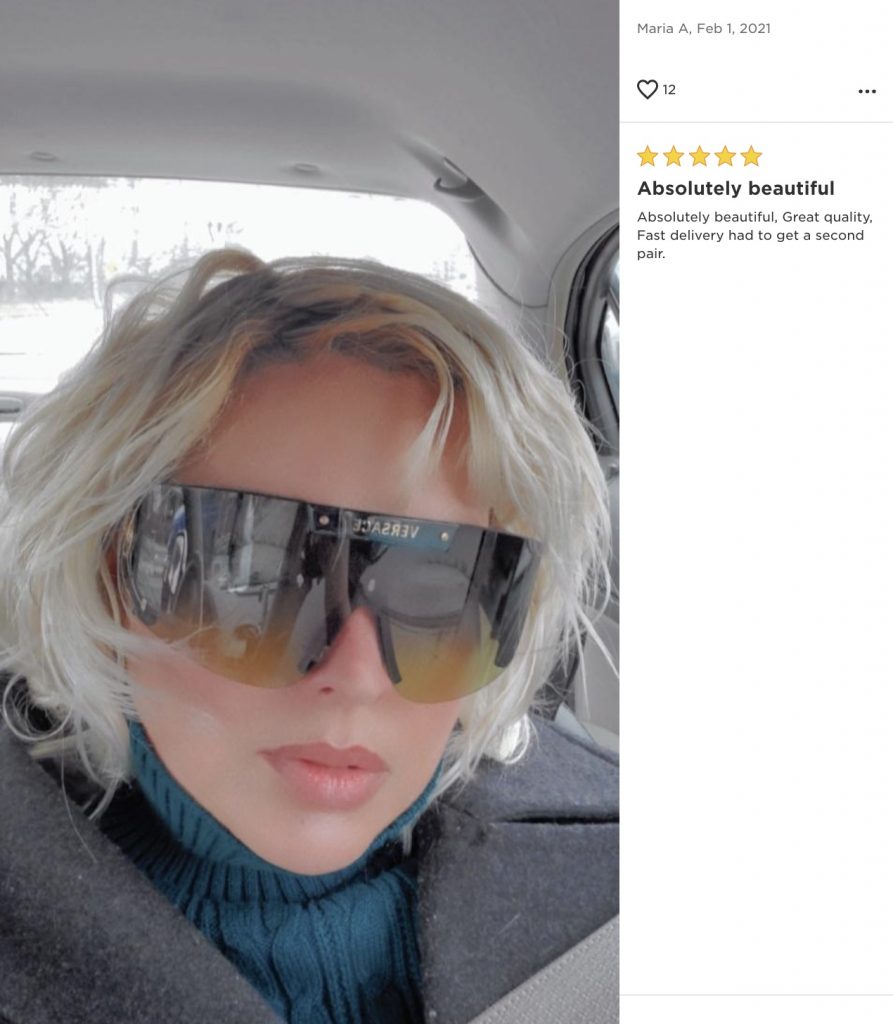 Here's Maria, a happy EZContacts customer, modeling the shield shades for us in our "Lovin' the Look" customer gallery.
Yellow lenses are "a go" for snow
Did you know yellow lenses are excellent for snow conditions? They enhance contrast and depth perception making them excellent for driving in the winter and for snow sports. They also happen to be crazy stylish, yellow lenses can instantly upgrade your look by providing a statement accessory to the most basic of outfits. While you can go '70s with a pair of aviators or totally '90s with rectangular lenses, keeping it modern with a classic pair of wayfarers will have you radiating effortlessness.
O is for Oakley
Oakley has been a dominant brand in the sunglass industry for decades. And while the brand has been the gold standard for sports sunglasses, it's also become a high-fashion staple in recent years with the rise of sporty sunnies. Whether you need them for practical winter reasons or you're finally ready to try one of the hottest trends from the runway, these Oakley frames deserve a spot in your winter wardrobe.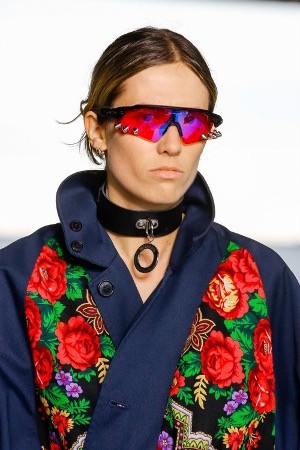 Go bold in the cold
These Balenciaga frames are the embodiment of bold expressiveness. The distinct black and white speckled finish offer a fresh take on pattern and a modern update on a classic brown tortoiseshell. The double, oversized "B" logo on your sunglasses' templates is enough embellishment needed to dress up your entire face—no need for statement jewelry here. Embracing interesting patterns can upgrade your entire outfit and transform any tired winter outerwear.
Blue works too
Blue-tinted lenses offer vision benefits for winter days because they reduce glare during snowy conditions. These Arnette frames are also reminiscent of a silvery pair of Balenciaga frames seen by every influencer and model during fashion week. These are completely on-trend, smart, and the price is quite attractive too.
Whether you're looking for the final fashionable touch for a runway-ready look or you're just aiming to find a pair of frames that can transform that sweater you've worn 100 times, sunglasses are the ultimate way to dress up your face.