Do a search for Oakley on our website and 297 products are offered (as of this writing). Suffice to say, Oakley is a hugely popular brand for both sunglasses and eyeglasses, which is why we've carried a vast selection of authentic models for more than a decade.
The Oakley brand has been immensely popular since the mid-1980s. We've created this guide to the Oakley eyewear brand to showcase its most popular products and answer your questions.
Where did the Oakley brand come from?
In 1975, founder Jim Jannard—who was in the motorcycle parts business—started the company out of his garage in Orange County, California. The brand was named after his pooch, Oakley Anne. Its first product was a rubber motorcycle handlebar grip. Soon after, they developed motocross goggles made of high-impact plastic designed to be lighter and stronger than glass goggles. Ski goggles came next.
In 1984, Oakley moved into the sunglasses market. Celebrities including cyclist Greg Le Mond, tennis star Andre Agassi, skater Bonnie Blair, and baseball legend Cal Ripken were just a few of the star athletes endorsing the brand. By the end of 1994, Oakley made eight lines of sunglasses accounting for a double-digit market share of premium sunglasses in the U.S.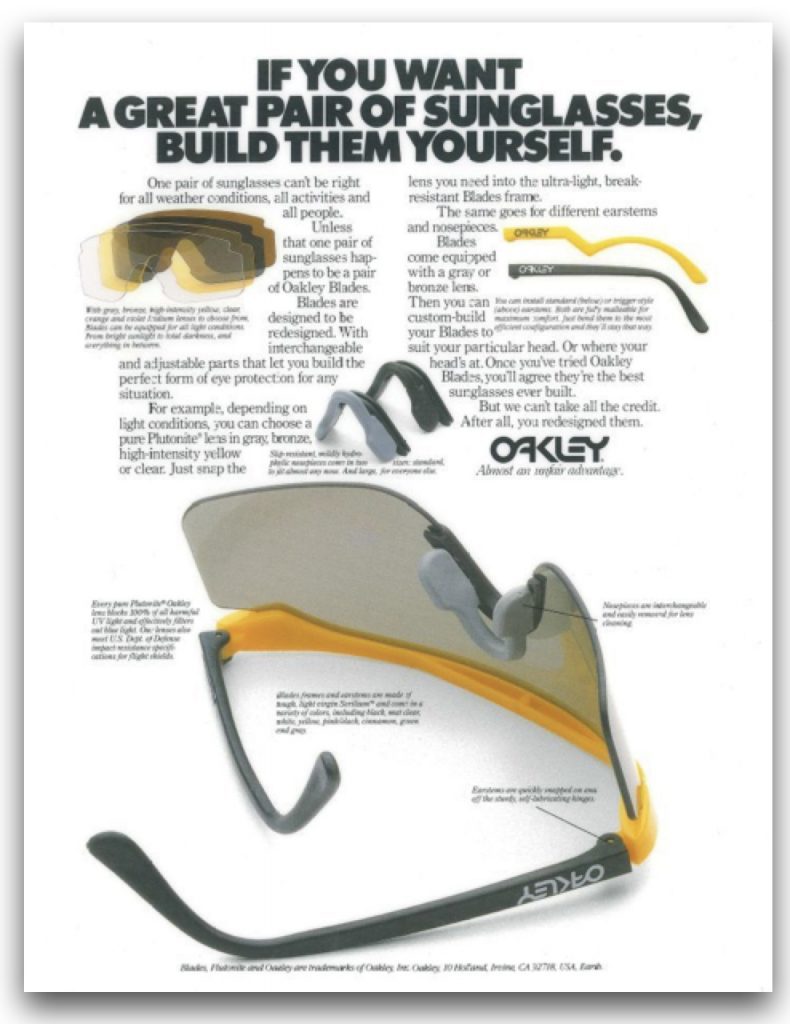 One of Oakley's biggest hits was its Blades model, which featured interchangeable nose pieces, ear stems, and lenses that slipped into a carbon-fibre frame.
1990 Oakley M Frame eyewear is awarded 30 patents.

1993 The iconic "O" logo is born.

1995 Oakley goes public.

1997 – 1998 Oakley enters the performance apparel, footwear and wristwatch markets.

2007 Luxottica acquires Oakley.
How can you tell if your Oakley glasses are authentic?
Like so many leading brands, Oakley products are often imitated or sold as the real thing when they are actually knock-offs. To ensure you get authentic Oakley eyewear, look for the following:
A certificate of authenticity and warranty are included.
A high-quality branded carrying case or pouch is included.
The logo is embedded into the frame.
A serial number is printed on the inside of the arm.
The lens sticker is static cling (not adhesive).
Quality construction is obvious. Materials are sturdy. All plastics are pre-dyed, so there will be no paint.
If your model includes rubber, it will be soft and spongy for comfort.
Note: All Oakley eyewear you buy from EZContacts is 100% authentic (which applies to every brand we sell).
Where are Oakley glasses made?
For a long time, Oakley products were designed and engineered in California and manufactured in the U.S., however, this is no longer the case. Some Oakley glasses are made in the U.S., sometimes components are made overseas and assembled in the USA, and often, they are made in China. Regardless of where your Oakley glasses are made or assembled, the products will meet the same uncompromising quality standards.
Are all Oakley sunglasses polarized?
The majority of Oakley sunglasses are polarized, but a fair number of Oakley sunglasses are not, so you can go with your preference.
What is PRIZM?
After 15 years of research and development, Oakley introduced PRIZM lens technology in 2014. Designed to fine-tune vision for specific environments to enhance performance and safety, PRIZM lenses filter light to emphasize the colors necessary for optimal performance. The lenses are made of high-grade, impact-resistant polycarbonate with infused, scratch-proof UV protection.
Some PRIZM lenses are polarized; some are not. Oakley PRIZM Polarized lenses reduce glare so they're recommended for water sports or driving. PRIZM sport lenses that are not polarized feature a mirror coating that helps reduce brightness without sacrificing depth perception or contrast.
Can you get photochromic lenses with Oakleys?
Yes. Oakley offers photochromic lenses for many of their popular frames and is a smart choice for athletes and outdoor enthusiasts. The lenses adapt to the light conditions as you go from indoors to outdoors or when weather conditions change.
Can you get Oakley sunglasses with prescriptions?
Yes, over 90 of the Oakley models offered at EZContacts are prescription-ready. When shopping online, you can use a filter to easily find these models. Also, most offer the option to get your glasses with progressive or bifocal lenses.
Can you order Oakley frames as eyeglasses?
Definitely. We offer more than 100 Oakley frames as prescription eyewear including 15 specifically for women.
Best-selling Oakley sunglasses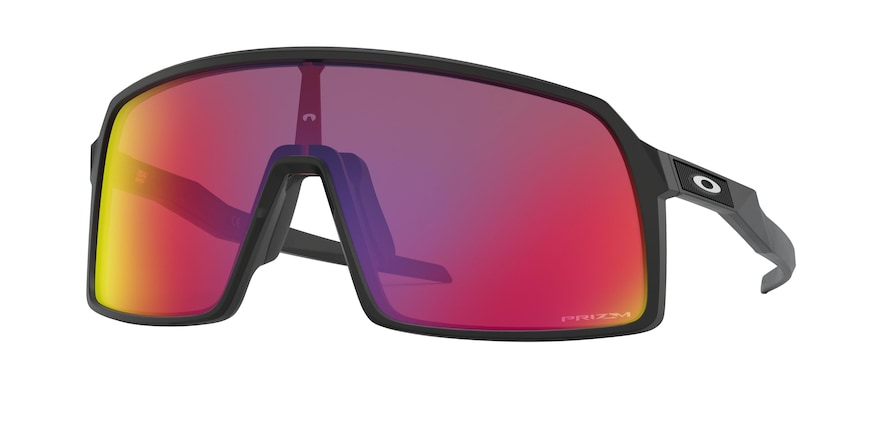 This amazingly popular shield-style frame comes in a variety of frame/lens color combinations. Most offer the PRIZM lens. A clear lens version is an ideal choice for protective goggles.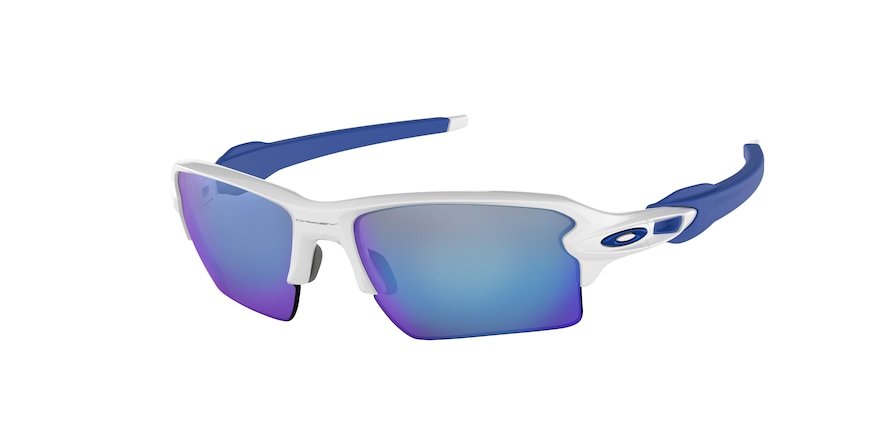 Flak is a popular choice for bicyclists and other types of athletes. A massive portfolio of color combinations is offered including a special series designed to include the colors of NFL teams.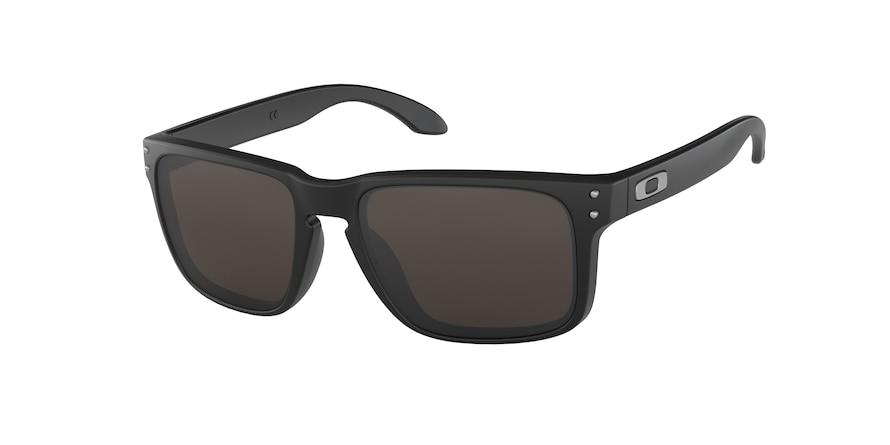 Holbrook is Oakley's most popular model for traditional square-shaped lenses. It also features PRIZM lenses and is available in many colors, including an NFL series.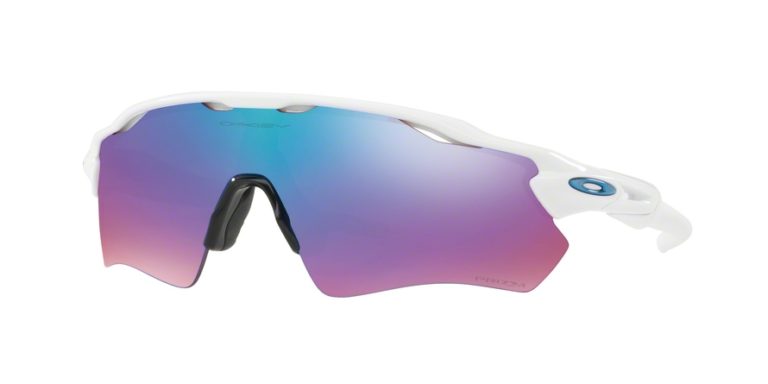 Radar EV Path comes in many varieties offering the PRIZM lens, and editions specifically for golf, low light, and photochromic.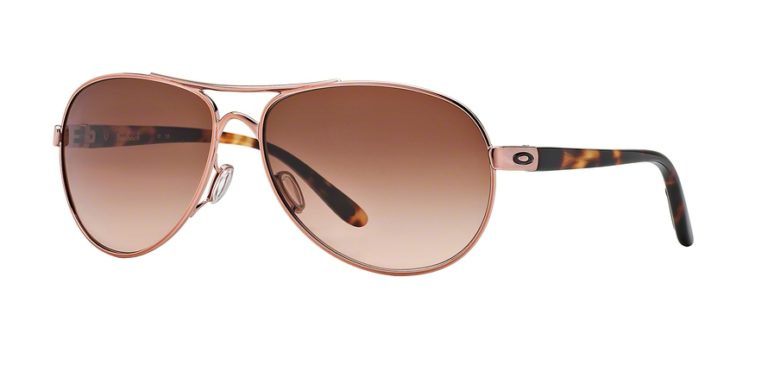 Feedback is a popular aviator-style frame for women. It's available in many looks with or without PRIZM and polarization.
Best-selling Oakley eyeglasses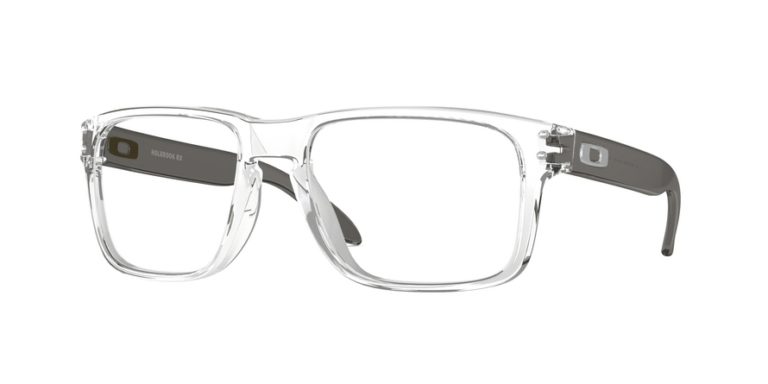 The ever-popular, square, plastic Holbrook RX style is available in four frame colors including a two-tone look and the polished clear frame shown here.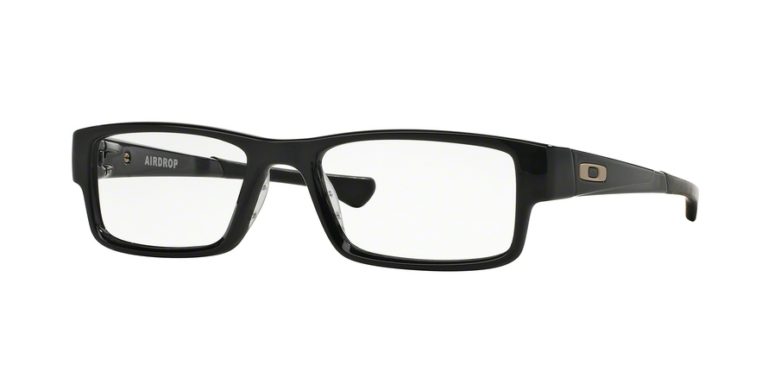 The rectangular frame Airdrop is offered in various greys, satin, blue, and black.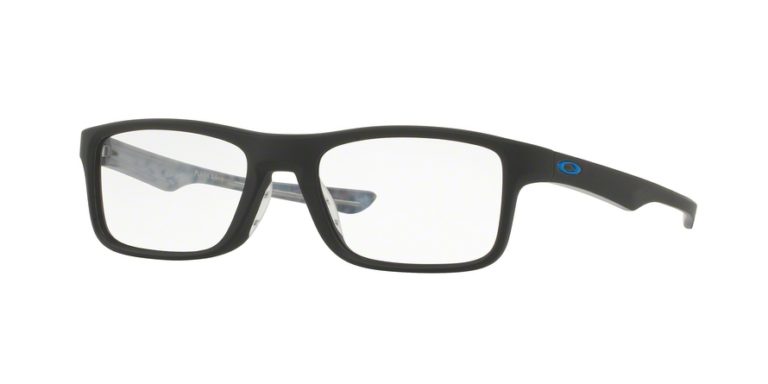 Plank 2.0 is a popular unisex model featuring rectangular frames. It's available in multiple sizes and colors.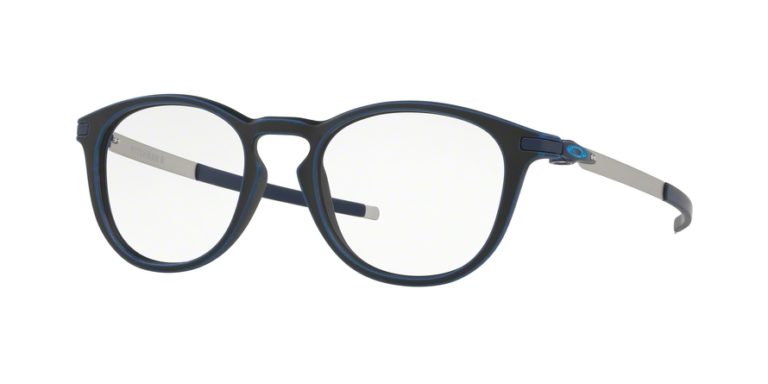 Pitchman R features round lenses. It's available in multiple variations, some featuring contrasting frames and templates, such as the satin navy glasses shown here.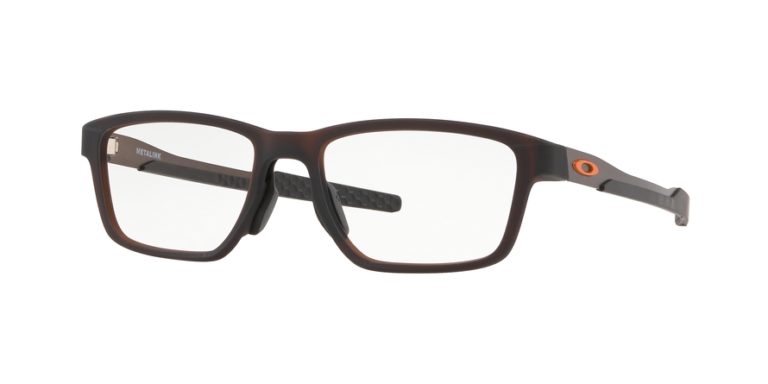 Metalink frames are available in 3 sizes and 7 colors. Note the frame's straight templates with rubberized grips.
Are Oakleys worth the money?
Shoppers pose this question often. The answer is clearly, yes. Also, while Oakley prices vary, you'll find many choices below $100, starting around $65.
Oakley eyewear is far more than a fashion statement. The Oakley brand consistently delivers some of the most advanced innovations in performance eyewear and meets the highest standards.
The 10 Oakley sunglasses and eyeglasses showcased above are current best-sellers, but as we mentioned, EZContacts carries nearly 300 models. Polarized, prescription-ready, plastic, metal: Oakley offers something for everyone.