The winter months can often feel cold, drab, and well, all-around uninspiring. But instead of bundling up in boring cold-weather accessories, this time of year is the perfect opportunity to infuse some style into your look—from the latest trendy topper to fashionable frames.
Sunglasses should be an integral part of your cold-weather uniform to help protect you from those bright winter rays. From a sunglasses-beret combination that sends you to Paris (in your dreams), to a pairing more fit for the ski slopes, we've rounded up 8 winter accessories combos you'll be dying to add to your cart. Whether or not your winter style skews more functional or purely decorative, we've got the perfect pairing for you.
Off duty style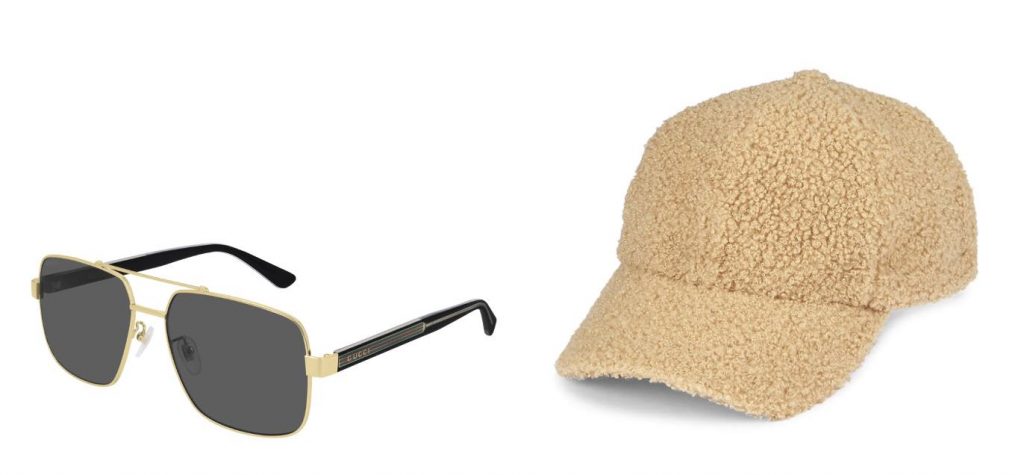 Winterize your style by swapping out your regular baseball cap with a cozy sherpa one instead. Aviators and baseball caps always evoke the off-duty model style, while this combo offers smart updates instead. Gucci aviators with a rounded square lens shape are a modern take to the classic '70s shape. Plus, a color palette of camel, black, and gold will never go out of style.
Trés chic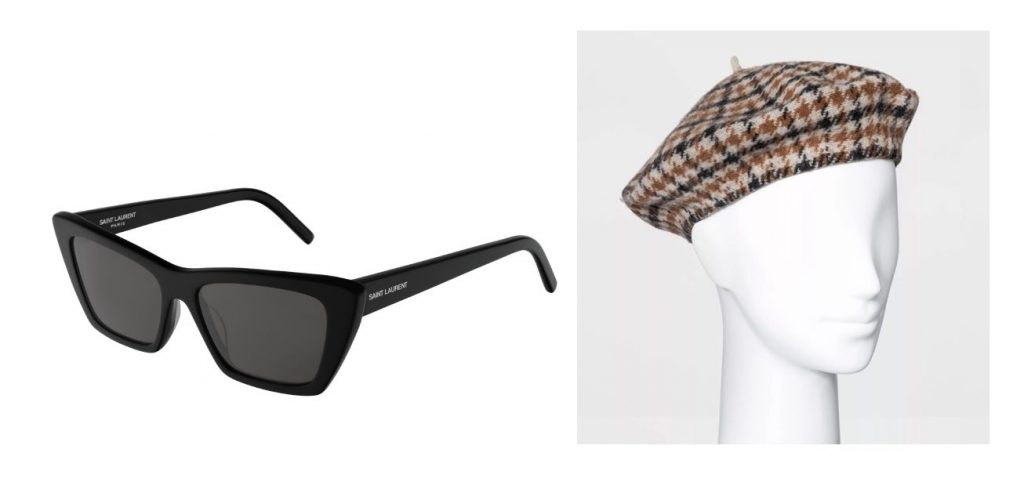 Nothing says Parisian-chic like a houndstooth beret and classic black cat eyeglasses. This idyllic pairing will have you transported straight to the cobblestone streets of France. While this combo might skew more stylish than practical, it's the perfect option for those who prefer romantic winter style.
Totally groovy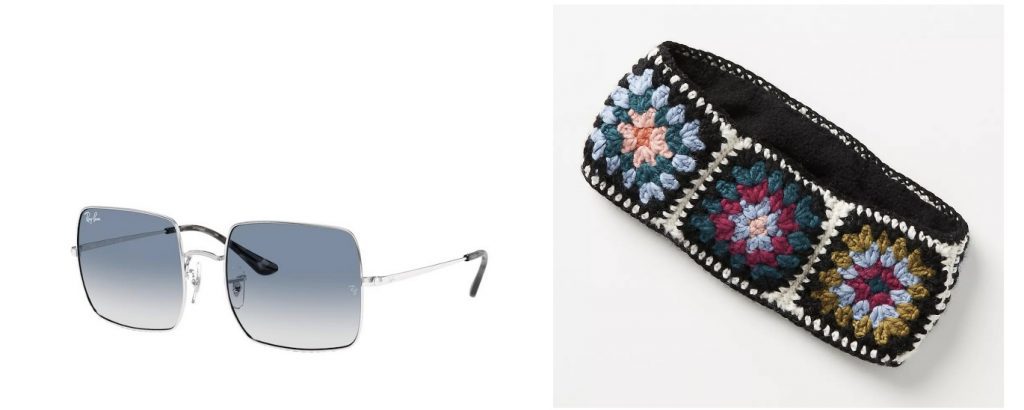 Level up this wool granny square ear warmer with equally vintage-inspired Ray-Ban sunglasses. This duo offers a cold-weather look that provides plenty of personality. Blue lenses and square wireframes are a total blast from the past, while the crochet details playfully match the same '70s aesthetic.
Sleek and stylish

For those looking to infuse maximum style into their cold-weather looks, try out a couple of different trends at a time. Rose-colored lenses accent the chunky marble frames of these Prada frames. To top off this stylish glam look, try a plush fuzzy bucket hat. Long rectangular frames like these work best with winter accessories that don't fit tightly on the face.
Retro glam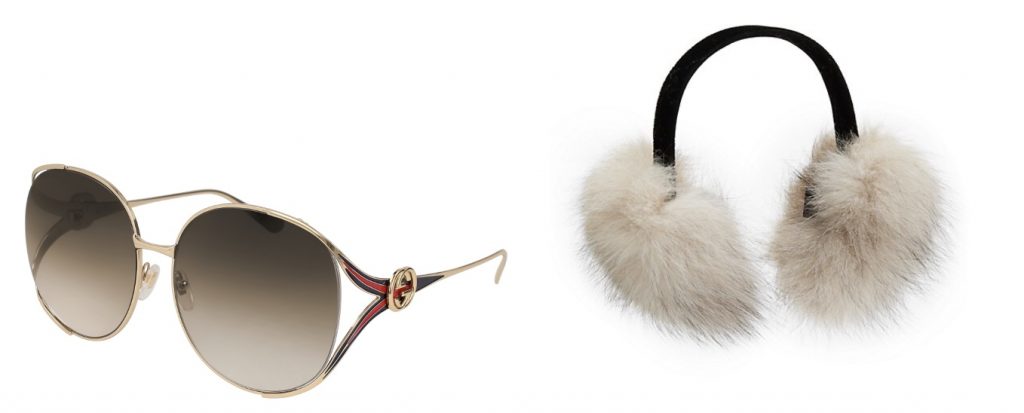 The winter months are the perfect time to infuse a little glamour into your accessories. These fluffy fox fur earmuffs work perfectly against the retro glam of oversized Gucci sunnies since they both invoke old Hollywood glamour. Because earmuffs sit tightly on the ear, you'll want to opt for frames that have subtle arm legs like these skinny wire options.
Cozy and cute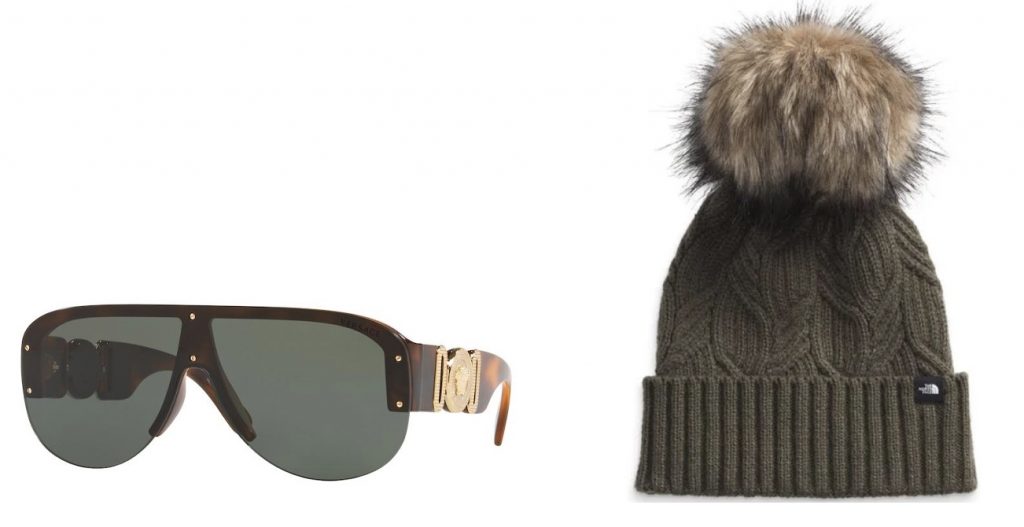 Take your style straight from the slopes and spend your aprés ski in style with these Versace shield aviators. They'll offer optimum sun protection against the sun hitting the snow with mirrored lenses and shield-style lenses. To continue this cute but cozy aesthetic, pair the sunnies with a warm and functional beanie.
CHECK OUT MORE OF OUR POPULAR SHIELD-STYLE SUNGLASSES
Winter brights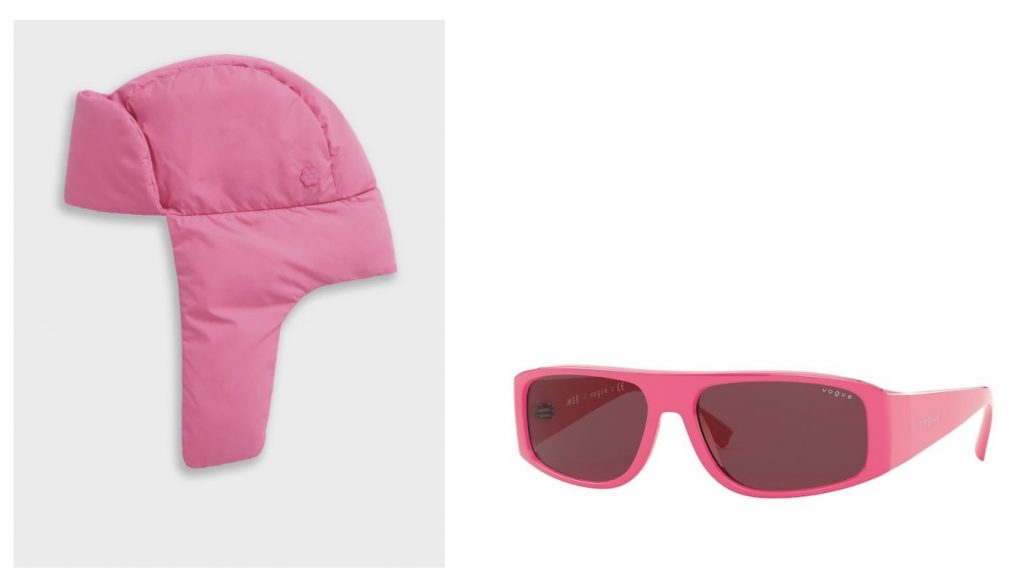 A trapper hat is sure to offer you maximum warmth for those winter days you just can't handle the cold—but that doesn't mean you have to sacrifice style. This flamingo-pink trapper hat offers both. Embrace winter brights with hot pink Vogue sunglasses. The neon colors and acetate frame offer a kitschy '80s style that is sure to brighten up even the coldest of days.
Modern elegance

If your winter style relies heavily on cozy textures, rich colors, and modern shapes, this effortlessly elegant combo is for you. The cashmere twist beanie offers a refined take on the classic winter accessory, while these Prada shades deliver pure sophistication. The oversized tortoise frame and brown lenses will also work well beyond the colder months.