Sunglass trends aren't always the most wearable. From skinny Matrix sunglasses to oversized goggle frames, sometimes they can feel a bit extreme. So it's always a pleasant surprise when a new sunglasses trend emerges that, above all, just looks good on everyone!
Yes, yellow aviators are almost a classic spin on the '70s inspired trends that never seem to go anywhere. But in addition to this staple, we're starting to see yellow lenses in different silhouettes. From Y2K rimless frames to '90s rectangular shapes to oversized bold acetate frames, yellow lenses can update just about any frame shape. It's easy to see why these colorful shades offer an undeniable cool factor to any outfit.
Yellow hits the runway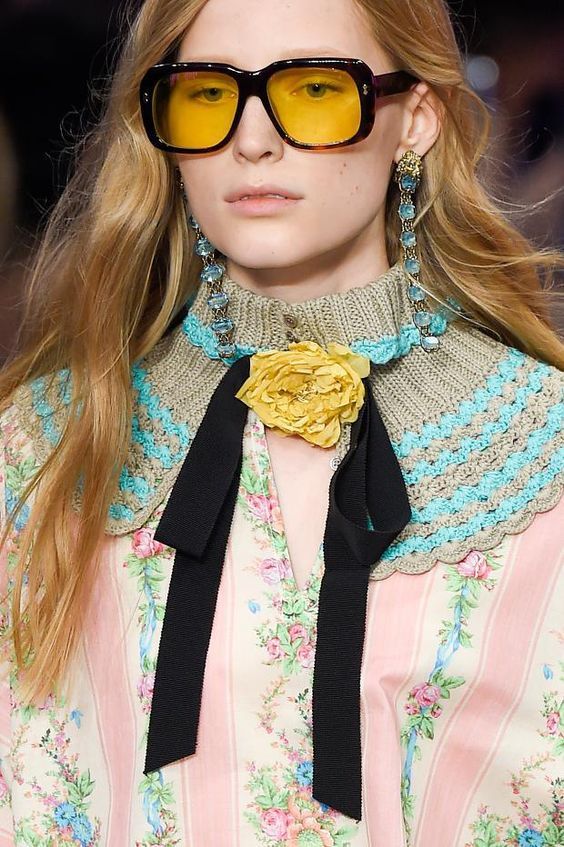 When a trend is showcased at multiple shows in a season, you can bet it will trickle down to the masses. Now that's not to say all fads from the catwalk will turn into household staples, but this sunshine-inducing tone has gone viral. From buttery yellow to burnt amber orange, there are colors that looks good with every skin tone.
The good news is this trend is entirely wearable—available in every imaginable style and shape. From aviator-inspired glasses to oversized granny frames, there's a frame shape to suit everybody. The key to pulling off this trend is to keep your makeup simple and let the tinted shades steal the show. Add to a simple edgy outfit for a playful pop of color or an extra stylish moment.
Another easy way to identify which trend will come to the masses is to check what the hottest style stars can't seem to put down. With the resurgence of the '90s and early '00s inspired trends at an all-time high, it's no surprise this small rectangular shape is a favorite amongst the stylish. Instead of neutrals though, they're opting for a black acetate frame and sunshine yellow specs.
Whatever style or hue you go for, shop our favorite mellow-yellow shades below.
The '90s
The skinny rectangular shape of these '90s inspired glasses gets a modern update with yellow lenses. Take note from style stars like Bella Hadid and incorporate them into your wardrobe.
Taking flight with aviators
You've seen them all over Instagram. Pilot sunglasses are trending hard this fall, but upgrade the trend by opting for yellow-lens versions of them instead.
Y2K is Ohhhh-K
For whatever reason, Y2K is permeating all aspects of our wardrobe. If you're like most of us boycotting the return of low-rise jeans, colorful rimless frames are an easier way to buy into the trend.
Orange is an option
Tangerine orange was one of the biggest trends of the summer, so it's no wonder it's showing up in fall accessories as well. This warmer, more mellow amber might be an easier adoption into this sunny trend.
Go get your Grandma' on
Nobody knows why "Grandma" realness started trending, but if you're all-in on the oversized chunky frames and cardigan looks, take a cue from the fashionable Gucci runways and opt for yellow and orange variations.