In the land of velour tracksuits, low-rise jeans, and trucker hats, the early 2000s were an interesting time for style. After a resurgence of baguette bags and hair clips, it shouldn't be a surprise that we're starting to see early aughts-inspired trends creeping into eyewear as well.
From large shield-style sunglasses to crystal embellishments, these kitschy-cute trends are the perfect way to infuse a little bit of playfulness into your style. Take a cue from Bella Hadid herself and grab a pair of 2000s-inspired shades to start your new year.
2000s style glasses include transparent gradient-colored lenses, bedazzled decoration, giant logos, rimless frames, and bug-eye oversized shapes. Let's take a look at these eyewear trends from the early aughts.
Bedazzled embellishments
The days of peak Paris Hilton and major bling: the 2000s were a simpler time, albeit quite gaudy in terms of trends. Whether it was a crystal heart or large, jeweled logos, in the 2000s, bedazzling was all the rage.
Incorporate some in-your-face bling with these Miu Miu frames. For a more modern take on the blingy style, try these oversized reflective Miu Miu frames. They are adorned in crystals and pearls and have just enough early-aughts inspiration to feel versatile for those looking to just dip their toe in the trend.
Gradient lenses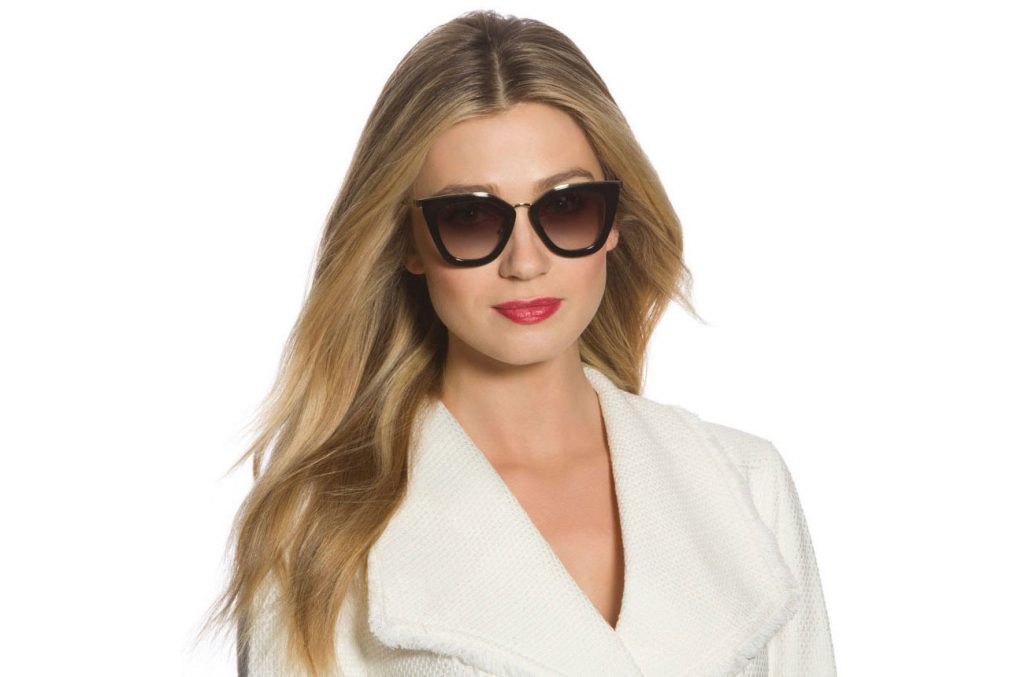 While gradient lenses are nothing new trend-wise, exaggerated gradients were incredibly popular in the early 2000s, from a colorful gradient to dramatic lenses that transitioned from black to clear. Instead of hiding behind oversized, dark, and dramatic frames in the early 2000s, most people gravitated towards lighter or colored lenses.
Gradient lenses are a subtle way to incorporate the early aughts into your accessories.
This Gucci style is a modern rimless gradient that provides just the right amount of early 2000s style. To take this trend to the next level, grab a pair of tinted frames that feature a colored gradient lens or keep it neutral and gravitate towards a grey gradient instead.
Bug-eye lenses
While oversized frames weren't exactly a new trend by the 2000s, it seems this decade took it to new heights. Audrey Hepburn and Jackie O were original wearers of an oversized frame, but in the early aughts, Nicole Richie and Paris Hilton were devout followers of this larger-than-life trend. Whether they were bedazzled or featured chunky frames, almost everyone was wearing a larger round or oval frame, which is why they received the nickname "bug-eye" sunglasses.
We've seen oversized frames reach peak popularity this year, from shield-style glasses to larger-than-life square frames, but to channel peak early-aughts inspired glasses, reach for oversized round or oval frames — the bigger the better.
Candy-colored lenses
Instead of the neutral glasses you've reached for in the past, why not introduce candy-colored lenses to set your sunglass collection apart this year? The best part about this trend is it can be incorporated into whatever style frame looks best on you. Just add a colorful lens. The most popular lenses of that time were pink, brown, purple, and blue. However, if you're in need of major sun protection, opt for a darker lens. Colored lenses—albeit super stylish—work best when it's a little cloudy (or when you're going just for a sharp look).
It doesn't get more early-aughts-inspired than blue heart-shaped sunglasses. We could all use a touch of playfulness in our lives this year and what better way than with new whimsical sunglasses? While classic lenses would get the job done, candy-colored heart-shaped lenses will definitely set you apart and infuse life into any outfit.
Square and rimless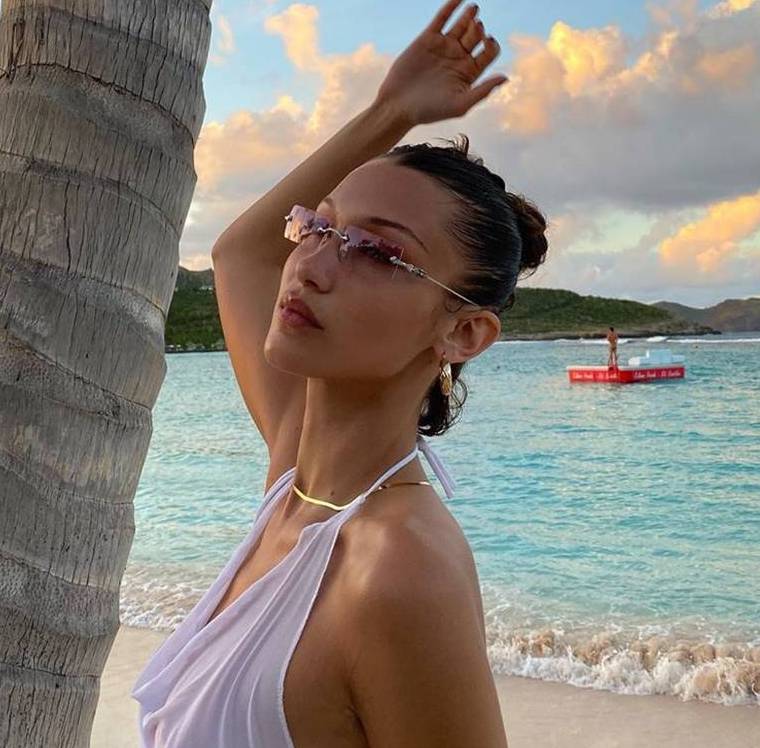 Source: @Bella_Hadid Instagram
Rimless frames feel like an instant early aughts hit. They are a low-key fashion risk but can add a Y2K-inspired touch to any outfit. Take a cue from Bella Hadid and style with a sleek bun, gold hoops, and an equally 2000s-inspired halter top.
Incorporate a couple of 2000s-inspired trends with this pair of Miu Miu glasses. The dusty pink lenses feel like a more wearable option compared to a candy-pink and the rimless rectangular style couldn't get more Y2K. If you're looking for a pair of outfit-making glasses to add to your collection this year, look no further.
Since fashion trends move like a pendulum, we often find ourselves looking at past decades for style inspiration. We constantly see inspiration from the 60s, 70s, and 80s in our eyewear, but it's not surprising the playful trends of the early 2000s are gaining popularity. So instead of reaching for a classic cat-eye or aviator this year, consider incorporating one of the kitschy trends of the early 2000s instead.