You've found frames you love amongst the massive selection offered by EZContacts. It's time to complete your order, which requires getting your prescription just right.
Yes, you'll need to make some choices and enter your prescription properly. But no, it shouldn't be confusing. This step-by-step guide will help you make informed choices and get the exact eyeglasses you want and need.
Step 1: Frame color
Many frames offer a choice of colors or color combinations. After selecting the frames you'll customize with your prescription, select the color option you prefer.
If you select eyeglasses frames that offer color options, you'll be presented with a carousel similar to the example above.
Step 2: Your prescription type
You'll select your prescription type next. The three options include:

Distance (single vision)
Reading (single vision)
Progressive/bifocal
You probably know which you need, however, the prescription your eye doctor gave you should make it clear if the glasses will be for distance (far), reading (near), or multifocal (progressive/bifocal).
For instance, look at the image below (Ex.1).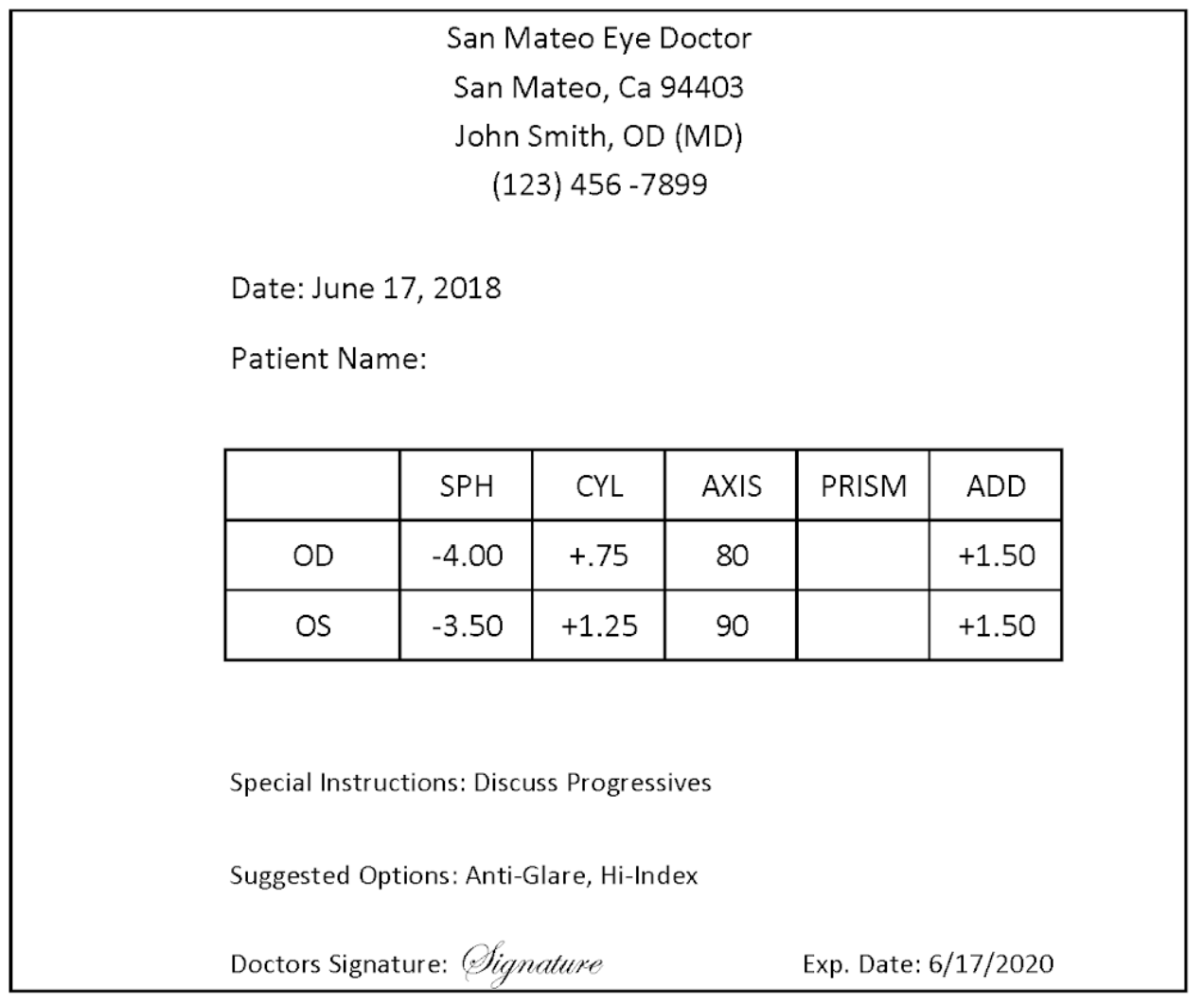 Ex. 1. This prescription is for a nearsighted patient and includes astigmatism correction and "ADD" power for multifocal lenses.
Look at the ADD field.
Does your prescription have a number in the ADD field? It was written to give you the option of selecting multifocal or single vision lenses. This doesn't mean that you must select a multifocal lens option, this simply gives you the information you need regardless of the lens design you select.


Is the ADD field empty? This means the prescription was written specifically for single vision lenses. Your eye doctor has not prescribed multifocal lenses, so the process will be that much simpler.



Note: progressive and bi-focal lenses provide far and near-vision correction. However, progressive lenses also include an intermediate distance (mostly for seeing computers clearly) without a visible line.




Step 3A: Your prescription details
After indicating the prescription type, you then input your prescription details into the following fields:
Note that if your prescription does not have a number in the Cylinder and Axis fields, you do not have astigmatism. In this case, leave the field at "none." You only need to enter the Sphere power from your prescription.
Also, if your prescription says, "DS/Plano" in the SPH or CYL areas, "none" or "0" is the correct entry.
Note: OD is your right eye and OS is your left eye.
Ex. 2. The prescription above has an astigmatism correction only.
Ex. 3. The prescription above has correction only for the right eye (OD).
Complete the prescription fields exactly as your eye doctor prescribed.
Step 3B: Your PD
Next, you'll input your pupillary distance (PD). When you make your office visit, ask the optician to provide you with a PD measurement. Don't worry if you left without it. You can make the measurement at home.

NOTE: Select "I have 2 PD numbers" if an optician provided a dual PD.
If an optician took your PD measurement, they may provide you with two numbers. This is called a mono-pupillary distance. The measurements indicate the distance, first, of your right and, second, left eye to the center of your bridge.
NOTE: If you're ordering multifocal lenses, you'll be given an additional set of choices regarding the type of progressive or bifocal lenses you want.
Premium progressive

features highly advanced technology to provide the smoothest transition from far to near and everything in between. Premium lenses also have a .significantly wider field of view compared to standard Progressives, providing less distortion in the peripheral areas.



Flat top bifocals

are described by the width of the near segment, measured in millimeters. The standard bifocal has a 28 mm near segment, however you can upgrade to flat top 35 mm.
Step 4: Select your lens material
EZContacts offers four options:

Premium standard plastic
Impact resistant polycarbonate
Super-thin 1.67 hi-index
Ultra-thin 1.74 hi-index
Refer to the information that follows to make the best selection for your needs.
Premium standard plastic
The premium standard plastic lens will work well if you're an adult with a prescription range from -2.00 to +1.00. The lens will have very low chromatic aberration (color distortion). By default, it has no additional coatings, such as the hard-coat (anti-scratch) found on all other materials, so when left as is there will be no concerns about coatings breaking down over time. However, additional coatings such as UV, anti-scratch, and AR can all be added in a later step.
Impact resistant polycarbonate
Polycarbonate lenses deliver superior comfort because they are up to 30% lighter and thinner than standard plastic lenses. Also, they shield your eyes from harmful UV rays.
Polycarbonate lenses are ideal for prescriptions ranging from -0.25 to -4.00 or from +0.25 to +3.50.

Polycarbonate lenses are 10 times more impact-resistant than plastic lenses and are highly recommended for children's eyewear, safety glasses, and a must for rimless frames that require drill mounts.
Super-thin 1.67 hi-index
Hi-index lenses have greater density and are ideal for prescriptions above -4.00 or above +3.50.
Hi-index lenses are 45% thinner than standard plastic and 15% thinner than polycarbonate.

All hi-index lenses feature UV protection.
Understand, however, hi-index lenses create more of a mirror-like effect as light hits the front or back surface of the lens. For this reason, we recommend ordering anti-reflective coating with your hi-index lens lenses.

Ultra-thin 1.74 hi-index
If your prescription is -6.50 or +5.00, or higher, order this form of hi-index lenses to ensure you get thinner lenses with the correction you need. Like the option above, anti-reflective coating will be standard.

Digitally surfaced lenses
(High Definition Lenses)
The digital lens is a high-definition lens that provides the widest fields of view, sharper image quality, better peripheral vision, and improves the ability to distinguish subtle differences in light versus dark. Digital lenses have less distortion outside of the optical center "sweet spot" and offer improved night vision as more light is able to pass through the lens.
Regardless of the material you select, digitally surfaced lenses should be an option you consider. Compared to traditional lenses, digitally surfaced lenses are produced with state-of-the-art software and machines to make lenses that are 6x clearer.
Digitally surfaced lenses can improve visual acuity for everyone but people with prescriptions above a +2 or a -3 stand to benefit the most from this state-of-the-art technology.
Edge polish
Anytime the lenses are exposed, having the edges polished provides a cleaner and more complete look to the eyeglasses. This could be due to a high prescription which leads to thicker lenses that protrude beyond the frame, or simply because you've selected a semi-rimless or complete rimless frame style where edge-polish is recommended.
Step 5: Choose an anti-reflective (AR) coating
Next, you have a number of choices regarding anti-reflective coating. However, whichever choice you make, the coating will diffuse light on the surface of the lens to improve visual acuity.
Consider the following when you make this selection:
Standard AR coating

—Basic coating that includes minimal scratch resistance

Hydrophobic AR coating

—Adds water repellent to keep the lenses cleaner

Crizal Easy

—An entry-level AR coating from Crizal with fewer color reflections than standard AR and smudge and water-resistant layers

Crizal Alize

—Increased durability with superior scratch, oil, and water-resistant layers

Crizal Avance

—Best-in-class scratch, oil, and water-resistant layers, plus anti-static technology to repel dust

Crizal Sapphire

—A virtually colorless AR coating that is as close to reflection-free as possible with maximum durability and visual quality


You may also want to add blue light protection to your lenses. Overexposure to the blue light emitted by computer, tablet and smartphone screens can cause eye strain, increase the risk of macular degeneration and disrupt your sleep.
Options include:

BlueShield blue-light-blocking

This feature reflects 38% of all harmful blue light while allowing beneficial blue light in. The coating differs from a traditional AR coating in that it will have a noticeable blue hue.
Crizal Prevencia
This coating adds durability with multi-layer technology into Crizal's anti-blue light AR coating. Crizal Prevencia reflects 20% of blue light in the 465-495 nanometer range, which is considered to be the portion of the light spectrum responsible for sleep disruption.
Step 6: Choose a lens color
You'll have four options for your lens color:

Clear
Color-tinted
Polarized
Transitions (photochromic)
Clear
This option is the default when purchasing eyeglasses. It assumes you want to own and use your eyeglasses and sunglasses separately. Select the clear option for colorless lenses, which are ideal for glasses specifically for nighttime use. You may also choose clear lenses if you're ordering sunglasses frames that you'll use as eyeglasses.
Color-tinted
If you're looking for a custom color, in the tone and intensity of your choice, there is no better way to go than color-tinted. Choose from the following options:
Match demo
When you select this option our technicians will match the lens tint closely to the original manufacturer demo. For polarization, select one of the polarized lens options. Please note, our lab does not do mirrored lenses at this time.


Solid tint
You'll have 6 different base color options and the ability to select the intensity percentage. The higher the percent, the darker the lenses will be.


Gradient tint


Commonly referred to as a fashion tint, gradient lenses are darker at the top and lighter at the bottom. Though they don't keep out nearly as much light as a solid tint, gradient lenses can still be a good choice for people that want a dark lens when looking into the distance but a clearer lens when looking near.
Note: Polycarbonate and hi-Index materials don't tint very dark. At most, they can reach a 60-70% darkness. For best results on dark tints, select premium standard plastic.
Polarized
If you spend a lot of time by the water, snow or other highly reflective environments, polarized lenses may be the right choice for you. At first glance, polarized sunglasses will look just like standard sunglasses, the biggest difference is that polarized lenses reverse harsh glare from flat surfaces like the sand at the beach or the wet asphalt on your commute to work.
Polarized lenses aren't available in custom colors like color-tinted lenses, but most people find polarized lenses reduce squinting better than tinted lenses, which leads to a more relaxed and enjoyable visual experience when outdoors.
Transitions (photochromic)
Light sensitive lenses provide a convenience not found in non-prescription sunglasses. Being able to wear a single pair of glasses in a variety of light conditions means you have one less thing to worry about as you go about your day.
Photochromic light adaptive
Standard photochromic lenses provide a basic light-adaptive feature at a low price point. The lenses have a slight tint while at their clearest point, though most would say it's not noticeable.


Transitions VII
The industry leader in light-sensitive lens technology, Transitions VII is an innovative lens that is virtually clear indoors and quickly turns dark when exposed to outdoor UV light. Available in grey and brown, Transitions VII is perfect for people that don't want to carry two sets of glasses, for indoor and outdoor. Transitions VII provides convenience and versatility which no other lens option can.



Transitions Gen8
Released in mid-2019, Transitions Gen8 builds upon the success of Transitions VII by decreasing the transition time. Transitions Gen8 also gets 5% darker than its predecessor and comes in a new graphite green tone. Within a year, Transitions VII will be discontinued and Transitions Gen8 will be the only option available.

Transitions XTRActive
Being that Transitions require UV light to turn dark, they normally wouldn't work very well inside a car because the windshield has a built-in UV filter. For this reason, Transitions introduced XTRActive, a more sensitive technology to reduce UV light, allowing the lenses to darken even while driving. The one drawback to XTRActive is that they are not as clear as the Gen8 or VII versions when they are at their clearest point.
Success! Your glasses are in production.
Upon completion, take time to review your order. If all looks good, you've designed the perfect set of glasses for your visual needs. As always, if you have any questions or concerns feel free to contact one of our opticians via phone, email or chat.
READY TO ENTER YOUR ORDER? CLICK HERE TO BEGIN.