Contact lenses are an amazing product of innovation. It still amazes me that something so small and delicate can bring a person's world into focus. Contacts may seem like an obvious choice for anyone that wears glasses, but there are a few things everyone should consider first.
Are you a fit for contact lenses?
Everyone's visual needs and lifestyle is different and contacts aren't always complimentary to it. For example, young children under the age of 12 tend to have less than stellar personal hygiene and inserting a contact lens with unwashed hands can lead to eye infections like Keratitis.
Teenagers are also more prone to forgetting to remove their contacts before going to bed. This will severely reduce oxygen flow to the cornea and can lead corneal Hypoxia.
Contacts are certainly a safe product, so long as the wearer understands the responsibility of keeping the lenses clean and not leaving them in longer than directed by the prescribing doctor.
Your prescription will also determine if you're a good candidate for contact lenses. Some people with high astigmatism could experience difficulty finding contacts that will both correct the refractive error and fit properly.
One of the most common eye conditions which prevents, or limits, the ability to use contact lenses is chronic dry eyes. In part, contact lenses depend on the moisture of the eye to keep from drying out. If the eye is dry already, contacts will only exacerbate the condition. Thankfully, there are new innovations in contact lens material which allow even people with chronic dry eyes to still wear contacts.
Don't get discouraged, your optometrist will certainly go over all your options with you and sticking to their guidelines will lead to long-term contact lens comfort and eye health.
Should you wear daily, bi-weekly or monthly contact lenses?
According to the CDC, 90% of contact lens wearers use soft contact lenses. With this being the case, you'll want to consider the three most common types of wear duration for soft contacts: daily, bi-weekly and monthly.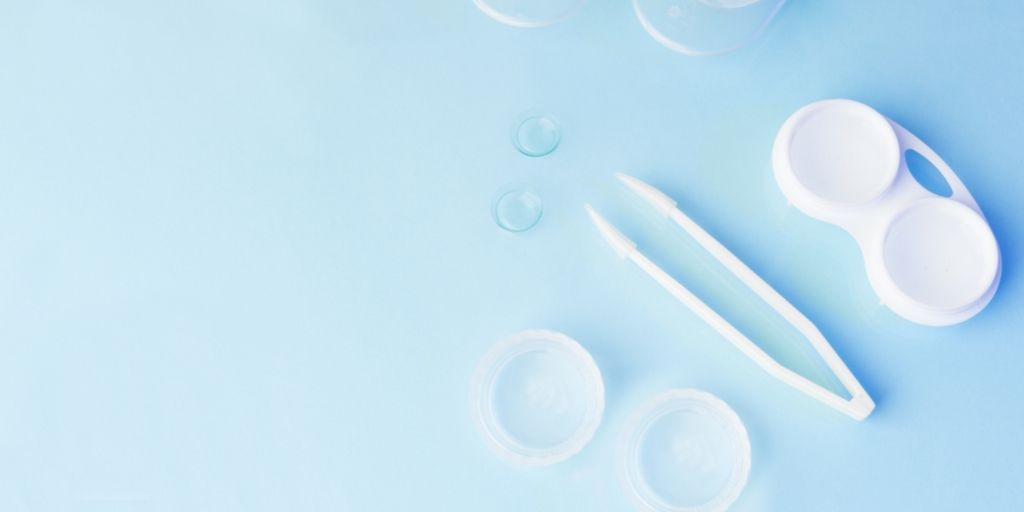 Daily disposable contact lenses are the type you open from a blister pack every time you plan on wearing the lenses and then throw away when you take them out. This is the most common recommendation for young first-time contact lens wearers because there is no storage or cleaning to worry about. For those that enjoy the feeling of a fresh set of lenses, there is no better choice than daily disposable lenses.
Bi-weekly contact lenses are inserted and removed daily and can be worn for up to two weeks before replacement. Daily cleaning and fresh saline storage solution is a must in order to keep the lens free from bacteria and protein build-up.
Monthly disposable contact lenses have a daily wear routine just like bi-weekly lenses, with the lenses inserted and removed daily. Cleaning the lenses and having fresh storage solution is especially important with monthly lenses since you'll be able to wear them for such a long time. For those that are looking for extended wear, such as the option to leave the contacts in more than 10-12 hours, monthly lenses may be the right choice.
The cost of contact lenses
Though you should heed the suggestion of your eye doctor, cost may be a factor in the brand or type of contact lens you elect to go with. It may be tempting to go with the lenses that have the lowest cost-per-lens (CPL) but full-time contact lenses wearers should focus more on the cost-per-month (CPM).
Take daily disposables for example. They have a lower CPL but have a much higher CPM because of the fact that you need so many more lenses to get you through the same amount of time.
Here's a solid comparison. Let's take the Acuvue Oasys 1-day, Acuvue Oasys (bi-weekly)  and the Acuvue Vita (monthly) and check the CPL and CPM using a 6-month supply. Keep in mind that this is the cost for a single lens, not a pair of lenses. The actual cost will double since most would need to order lenses for both eyes.
The average cost for each is as follows:
AV Oasys 1-Day (90 pk): $80
AV Oasys (12 pk): $50
AV Vita (6 pk): $47
Ordering a 6-month supply of each would present the following CPL and CPM:
AV Oasys 1-Day: CPL $.88 CPM $26.67
AV Oasys: CPL $4.17 CPM $8.33
AV Vita: CPL $7.83 CPM $7.83
As you can see, daily disposable lenses will have a lower CPL but a significantly higher CPM. As mentioned, there are great advantages to having daily disposable lenses over bi-weekly and monthly wear lenses, but you'll have to decide if those benefits justify the higher cost.
Again, depending on your visual needs, the cost will either be higher or lower than the example shown. Tlk to your doctor and together you can find the right lens for your budget and visual needs.
Should you give up your glasses?
Now that you know more about the types of soft contact lenses and the typical cost, should you put your glasses away and bid them farewell? No.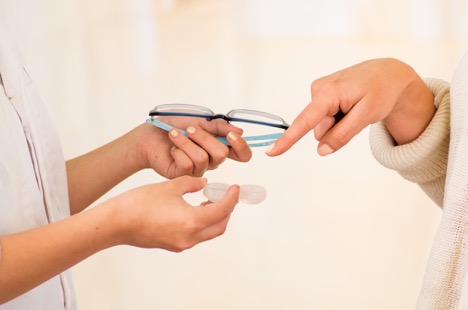 In fact, your doctor is likely to suggest giving your eyes a break from contact lenses every few days or every couple of weeks. Leaving the contacts out and wearing glasses for a day or two will allow your eyes to absorb more oxygen than they normally would when contacts are in.
It's also advised to not wear contacts as much if you suffer from seasonal allergies or when you're on a long flight. Keep your glasses handy for such time so you're not left scrambling to get a set of prescription glasses in a hurry when the time comes.
Contacts can be colorful
Contacts don't have to be all business, all the time. Color contacts, such as the Air Optix Colors, give you the opportunity to have a little fun by giving you ten colors to choose from.
Gemstone green, pure hazel and honey are just a few of the color you can select.
Another new innovation in contact lenses is the recently released Acuvue Oasys with Transitions. Great for outdoor activities such as soccer, baseball or hiking, the light adaptive lenses reduce brightness and squinting in situations where you may not be able to wear sunglasses.
Overall, there is a contact lens for just about everyone. Talk to your eye doctor about the options available to you and EZContacts.com will help you once your prescription is all set.
Do you have more questions regarding contact lenses? Get answers on our CONTACT LENSES FAQ.