As I watched what came down the runway during the four weeks of fashion month—from New York to London to Milan to Paris—I was amazed at how often the looks included trendy eyewear.
While us fashion folks are introduced to new things every fall and spring, some trends continue to pop-up. Whether it's introducing a new trend, or reminding us an old trend is here to stay for another season, runway shows serve as an idea of what's to come.
I rounded up the best of the best from the four weeks of fashion month to show you some exciting trends in the eyewear world.
70s revival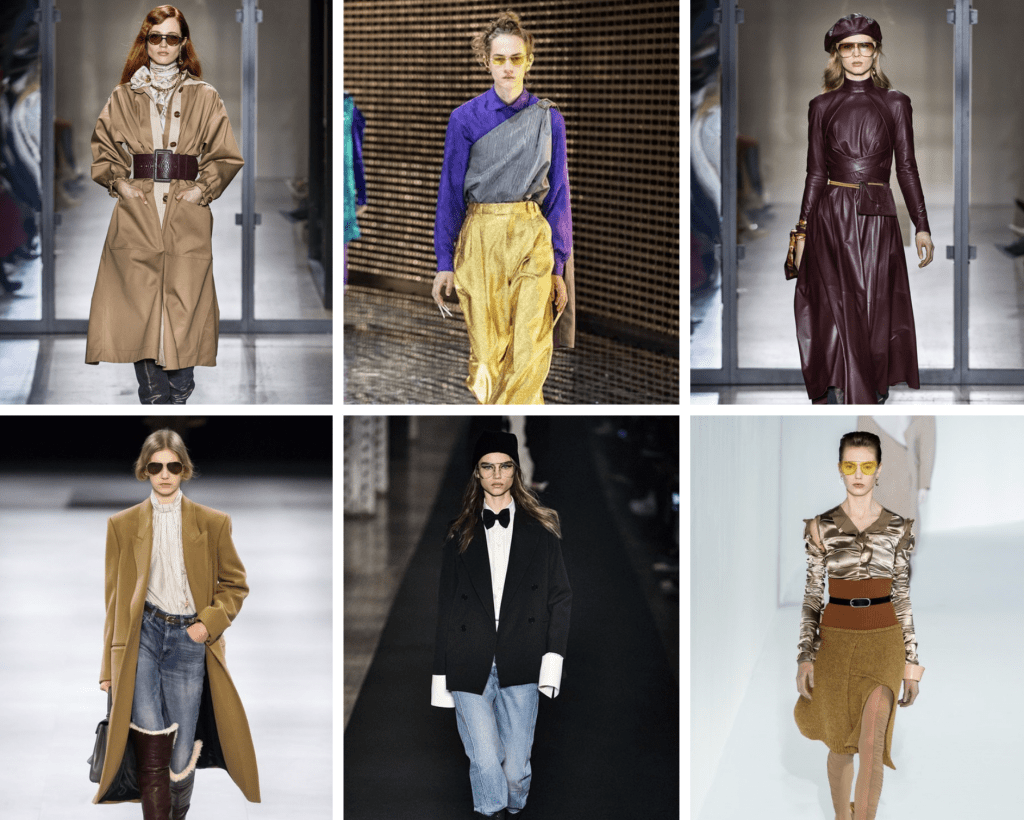 It's no surprise that 70s fashions have started influencing design again. Two seasons ago, Alessandro Michele sent an oversized aviator down the runway and we've seen a resurgence since.
For Hedi Slimane's second unveiling of Celine, every model was sent down the runway wearing aviator sunglasses. The clothes, all obviously inspired from early days of Celine, included tall leather boots, boxy blazers, and silky neckties.
At Zadig & Voltaire, both male and female models were baring aviator style eyeglasses to match their oversized blazer plus beanie looks.
At Zimmerman, one model clothed in a full length burgundy leather dress had on oversized gradient shield glasses, while another had glasses reminiscent of flight goggles.
Acne and Gucci both sent models down the runway with yellow tinted aviators sunglasses.
There was no shortage of 70s inspired trends on the runway or seen in the street style over the four cities in the last month. Most styles—like aviators—are seen as classics in the eyewear game, but if you're looking to switch things up this season try a pair of yellow tinted ones instead.
Shop 70s style
RAY-BAN RB4125 CATS 5000
GUCCI GG0398O
SALVATORE FERRAGAMO SF2177
RAY-BAN RB3025 AVIATOR LARGE METAL
BURBERRY BE3097h
Sporty sunglasses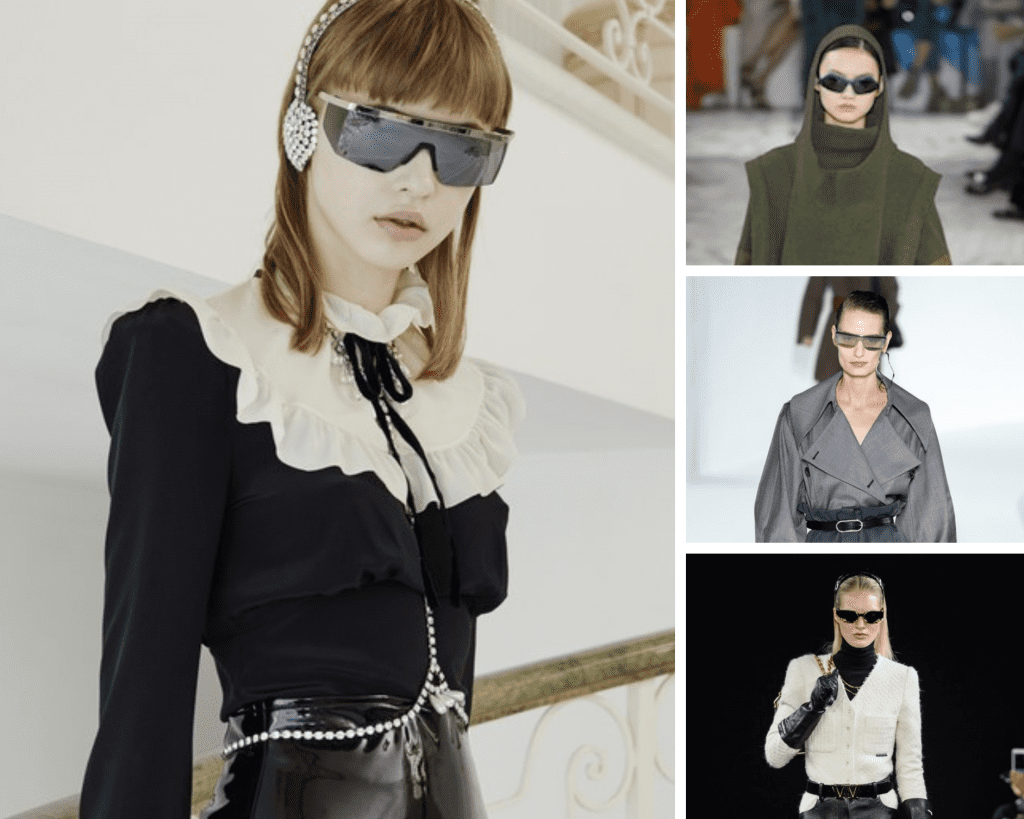 Sporty style fashion sunglasses started popping up last year from the runways to celebrities (Kim Kardashian is especially a fan). After they were sprinkled across runways this season, this trend was here to stay.
At Alessandra Rich, models donned huge oversized mirrored or pitch black shades paired with ladylike dresses and details like lace collars, chokers, and ribbon ties.
At Acne, more transculescent versions accompanied oversized suiting and details like mismatched earrings and fur bags.
Alexander Wang also sent down sporty sunglasses juxtaposed against a ladylike cardigan and turtleneck with edgy twists like a layered full length leather skirt and gloves.
Stella McCartney added color to her sporty sunglasses, opting for a monochromatic look with a green sweater and headcover.
After the craze took over last summer, it looks like it's here to stay. Take a note from the designers and contrast this sporty look with a feminine ensemble, or pull from Kim K's book and go full sport trend pairing with tight workout garb (exercise bike not included).
Shop sporty style
BOLLE SHIFTER
SWITCH VISION AVALANCHE SLIDE
BOLLE AEROMAX
BOLLE BOLT

Pops of light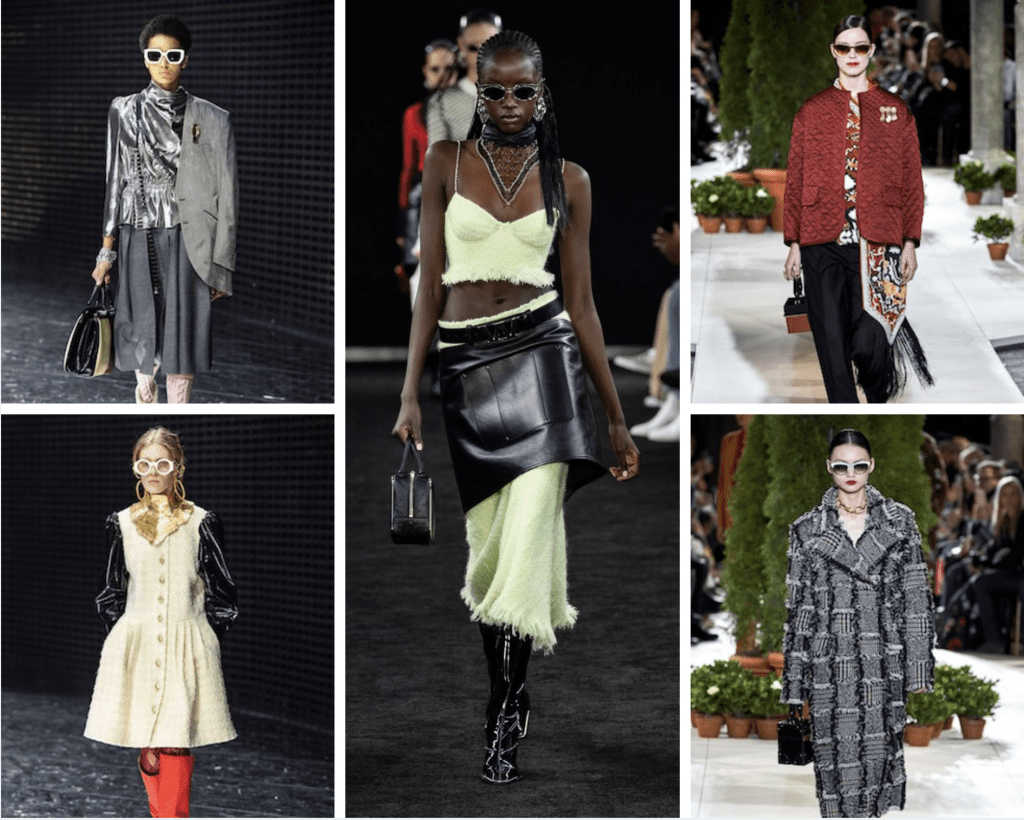 Big dark frames have been popular for years. Usually the more they hide the better. But this year on the runways I noticed things had lightened up a bit.
Multiple designers showcased pops of white and clear plastic. At Alexander Wang, half the models donned sunglasses with all clear frames and silver adornments.
At Oscar de la Renta, the frames were majorly feminine. Some mixed tortoiseshell with just a hint of white on the bottom half of the frames. Others embraced a strong white cat eye.
At Gucci, arguably the frontrunner of most trends, we saw oversized all white frames—once with clear lenses and bold yellow accessories and another time against dark black lenses.
With summer coming, continue to lighten things up with your eyewear to add to the white shoes and jeans you're breaking out. White makes for a great contrast especially in cat eye style glasses and clear makes any frame feel modern and cool.
Shop pops of light
VOGUE VO5211S
CELINE CL 41445/S
MICHAEL KORS MK2067 DESTIN
VERSACE VE4361
MIU MIU MU 05TS
Sharp cat eye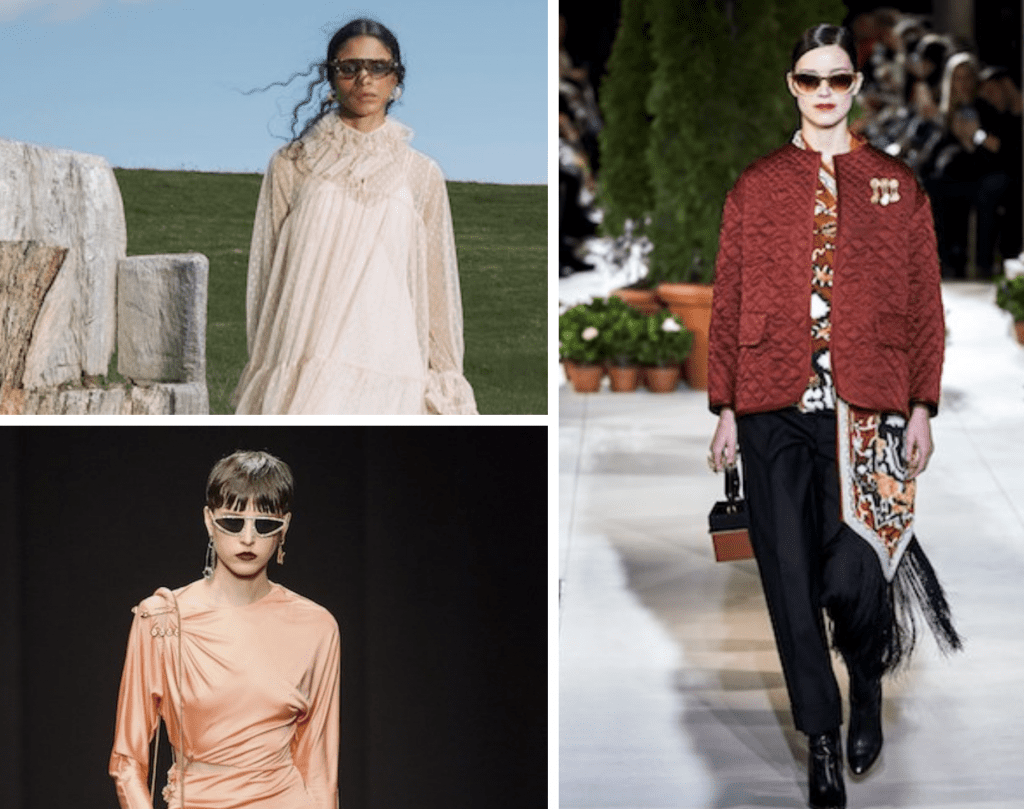 I consider this a merging of a couple trends. Over the past year and a half, the mico sunglass trend has been huge. From Rihanna on the red carpet to the Hadid sisters rocking them with their off-duty look, this trend was everywhere. The other trend that has been evergreen is the cat eye shape.
The cat eye has been around in fashion since the 1950s. This season on the runways we saw a merge of the two of these trends.
Gone were the matrix-style micro sunglasses. The oversized cat eye frames that were so popular were notably absent too. In their place were these wearable, fashionablly sharp cat eye shades.
At Versace, every model was sent down the runway in a bedazzled pair. For Karen Walker's latest lookbook, she debuted a couple versions—both slightly translucent shades. One features black frames, and the other, tortoiseshell.
Consider this your go-to if you like the idea of the tiny sunglass trend but couldn't get yourself to commit to glasses half the size of your eyes. Cat eyes compliment almost any face shape and you're bound to look trendy with this style.
Shop sharp cat eye
VOGUE VO5237S
MAX MARA MM LINA I/S
KATE YOUNG for TURA K504
VOGUE VO5211S
DITA TEMPTATION
VOGUE VO5237S
All photos sourced from Vogue.com