Twice a year we turn to New York, Milan, Paris, and London to see what designer's latest collections entail and what we can anticipate from this year's trends.
From bold fashion, come bold accessories to match and this season was bolder than most after almost two years without traditional runway shows. Across four cities and shows, we're inspired by the biggest trends to look out for in 2022. From brightly colored frames to new shapes and silhouettes, we have rounded up 7 trends to look out for — and how to shop them now.
Rainbow brights
Although Fall '22 shows debuted in the middle of February, it seemed many designers had brighter and sunnier days on their minds. From poppy, bright frames to monochromatic frames and lenses, rainbow colors were everywhere this season. Don't be afraid to invest in a tangerine orange or highlighter yellow frame to brighten your style, a bright color can be your new neutral.
Shop the look:

Colored lenses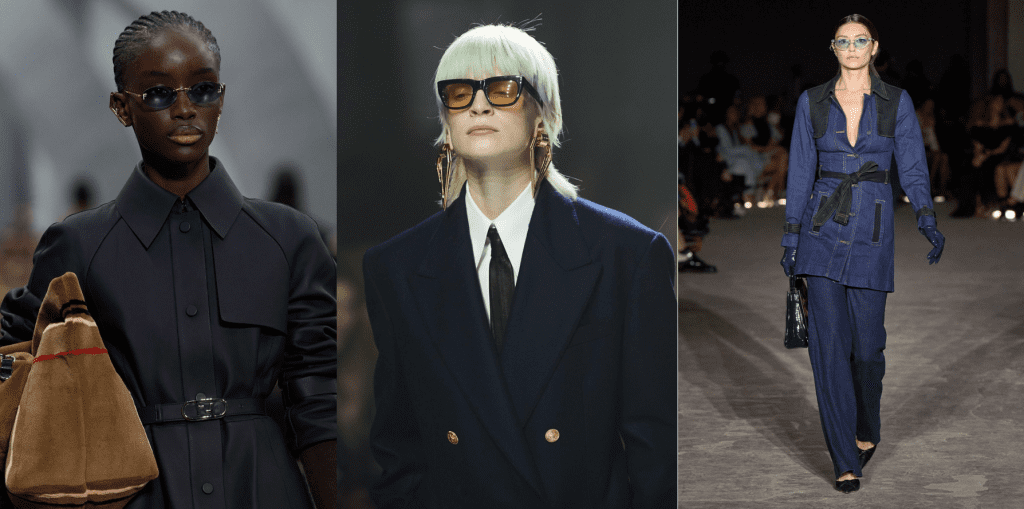 While rainbow brights are a colorful way to influence your wardrobe, colored lenses also dominated the runways. While Gucci and Fendi showcased more subdued palettes like orange, amber, and navy, Christian Siriano committed to bright pops of translucent blues to upgrade his lenses. From '70s-inspired acetate frames to rimless early aughts glasses, colorful lenses are a great way to upgrade your tried-and-true sunglass shape.
Shop the look:
Mono-shields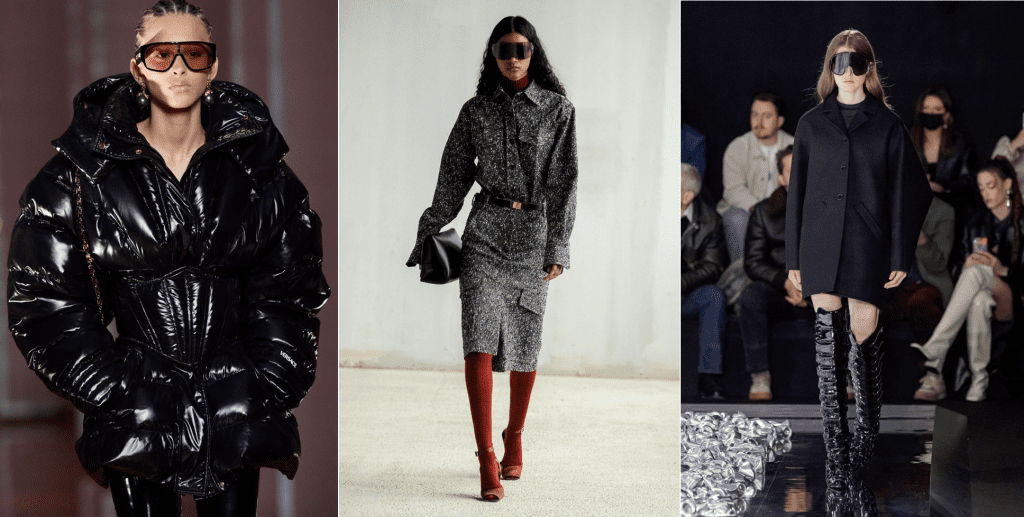 We've seen the pendulum swing from tiny Matrix-style glasses to huge oversized sunnies in the past few years and it's clear that oversized mono-shields aren't going anywhere. The characteristic of this style is a single shape connecting both lenses across the nose and offers a sportier take on the oversized frame trend.
Shop the look:
White hot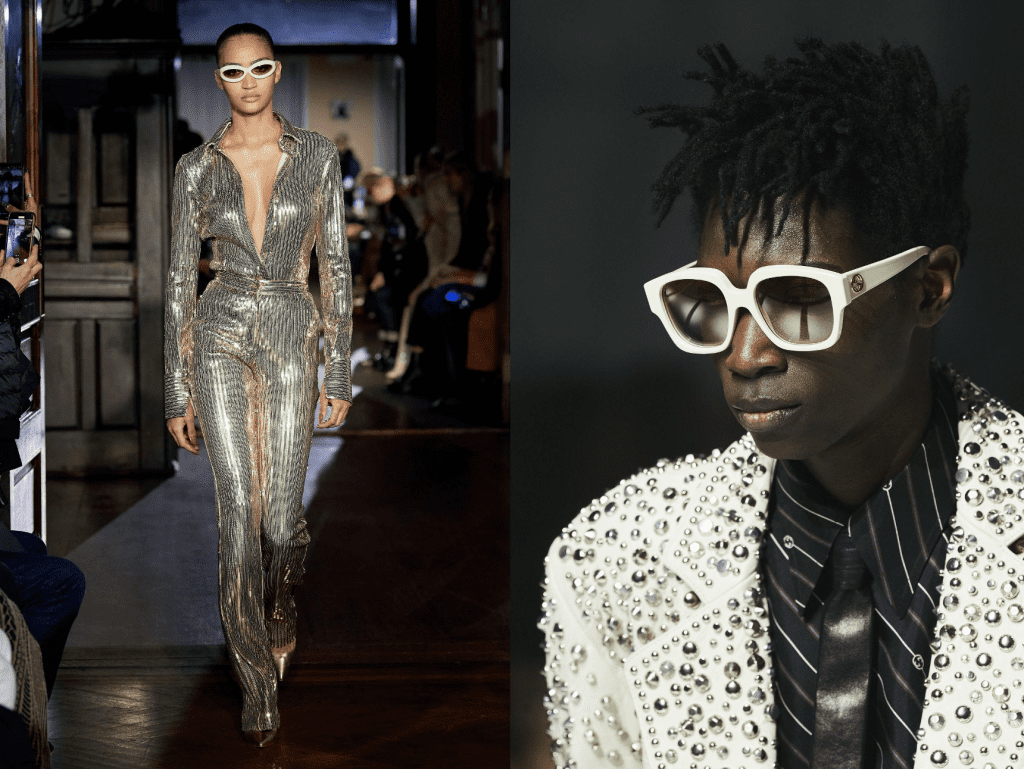 While hot pink or tangerine orange isn't for everybody's liking, a neutral color can please them all. At Laquan Smith and Gucci runways, we saw ecru and white frames offer a more modern take on brightly colored sunglasses. Don't be afraid to embrace different shades of white or off-white to complement your skin tone and hair color.
Shop the look:
Rectangular silhouettes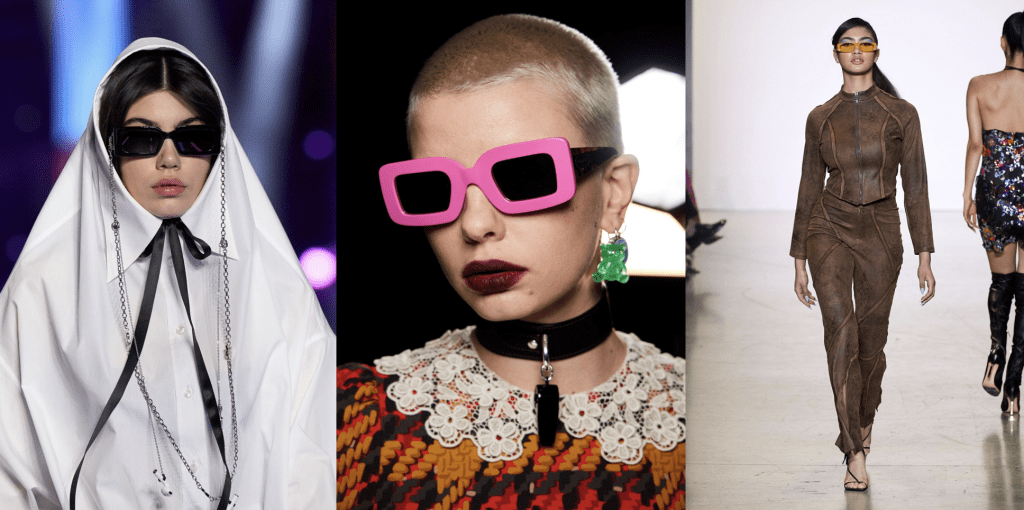 Rectangular frames continue to dominate the sunglass world. From ultra-skinny at Kim Shui to bold and chunky at Coach, this flattering silhouette can be seen across the runways and beyond. Go trendy classic in all black glasses or embrace two-trends-in-one with colorful acetate frames or lenses.
Shop the look:
Sharp cat eye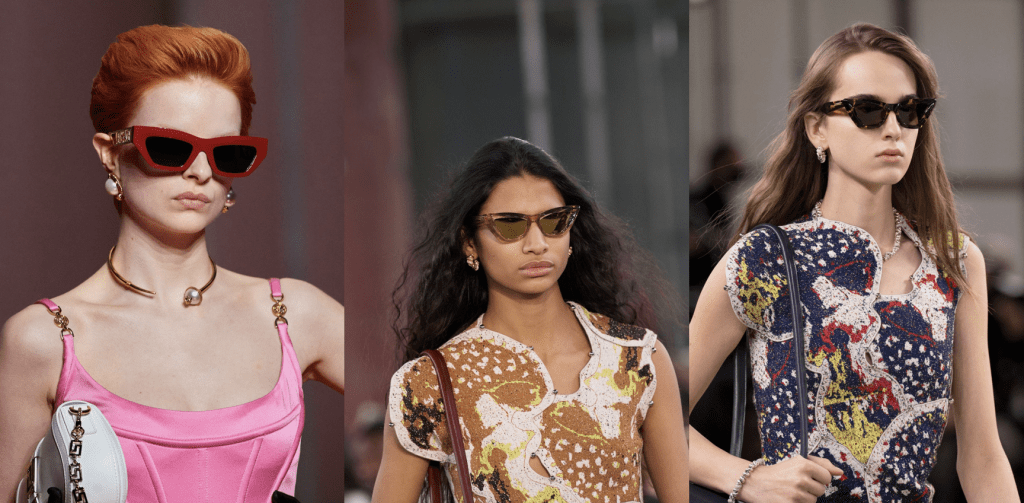 Cat-eye frames have been a mainstay in the sunglass world for decades, but this season Versace and Bottega Veneta went for even sharper and dramatic versions. While Versace went for a bold red and intricate side details, Bottega went for a more classic approach with chunky tortoiseshell and highly reflective lenses.
Shop the look: