Have you ever considered how your hairstyle and glasses work together to complete your look?
Your frames should match the ethos of your style while complimenting your hairstyle. In fact, there are a couple of things to consider when purchasing glasses. Have you assessed your face shape? What color frames look best with your eye color?
An easy place to start is by taking your glasses to your hairdresser. If you already own a pair and are debating switching up your hairstyle to compliment them, your hairdresser can assess your face shape and go from there.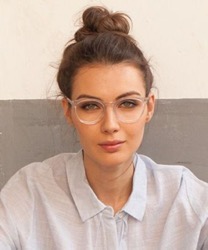 Your hairdresser can help make real-time adjustments to your cut to ensure they are flattering to your frames. The same goes for getting your brows done. Your esthetician can help determine the shape and color of your brows to ensure they are complimenting your look behind your frames.
Consider using your hair as a tool to balance out your frames. The easiest hairstyles to compliment your frames are styles that pull your hair out of your face. A bun or a ponytail is a great way to show off your frames, knowing that there will be extra focus on your face and glasses. They can be used as a tool to divert attention or draw attention, so go for a bold frame when rocking a soft look and vice versa.